Featured Books, with extracts, by Robert Muchamore
Loading other books by Robert Muchamore...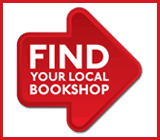 Author Info
Author's Website
Author's Facebook
Find Robert Muchamore on Facebook
Author's Facebook Latest
Author's Tweets
Fri, 31 Jul 2015 @ 12:15


Not generally in favour of the death penalty, but a message needs to be sent to people who steal my trolley in Ikea

Tue, 28 Jul 2015 @ 22:34


RT @HarryTLDN: Just seen Benzema ordering a wing meal deal at Sam's chicken, Holloway Road.

Fri, 24 Jul 2015 @ 19:17


Car, big puddle, loves young dream holding hands on the adjacent pavement. Of course, I didn't. I'm a better person than that...

Fri, 24 Jul 2015 @ 08:00


Staring at nothing, because the TV remote batteries have gone, and putting in new ones is way too much effort

Tue, 21 Jul 2015 @ 13:20


Once upon a time, there was an author. He ate a donut in bed, even though he should have known better... http://t.co/YYH26MTxew
Did you know
At Lovereading4kids you can download and read an Opening Extract and an online review of books by Robert Muchamore and hundreds of other authors.