Did you know
At lovereading
4kids
you can download and read an opening extract and an online review of books by Tony Robinson and hundreds of other authors
Children's Author 'Like-for-Like' recommendations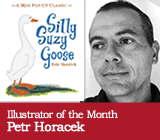 Need to send a gift?
Click to buy book vouchers
Tony Robinson - Children's Author
---
Tony presents Channel 4's archaeology series "Time Team", and played Baldrick in "Blackadder". He also devised and wrote four series of the BBC's "Maid Marian and Her Merry Men" in which he played the Sheriff of Nottingham.
Click here to read Tony's full biography.
---
Featured Books, with extracts by Tony Robinson
---
Loading other books by Tony Robinson...