Author's Website
www.sallynicholls.com/
Author's Facebook
Find Sally Nicholls on Facebook
Author's Facebook Latest
Author's Tweets
Sat, 18 May 2013 @ 12:07


Just read the synopsis for 'Close Your Pretty Eyes'. That was a different novel I ended up writing, then.

Fri, 17 May 2013 @ 13:34


Cry "Coffee!" and release the dogs of editing!

Thu, 16 May 2013 @ 13:05


Congratulations to @NosyCrow on the birth of a Nosy Crow baby. And how awesome is this post about working parents? http://t.co/dg4KomXRyY

Thu, 16 May 2013 @ 12:57


Me at the @BarringtonStoke Story Queens event, with some other fantastic ladies. http://t.co/kftvJ64FxB

Wed, 15 May 2013 @ 16:15


There's one comfort for all us procrastinators. Even if you only write a very, very little every day, the book does keep getting bigger.
Did you know
At lovereading
4kids
you can download and read an opening extract and an online review of books by Sally Nicholls and hundreds of other authors
Children's Author 'Like-for-Like' recommendations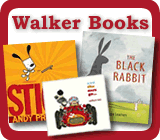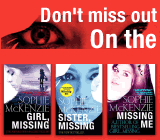 Need to send a gift?
Click to buy book vouchers
Sally Nicholls - Children's Author
---
I was born in Stockton-on-Tees, just after midnight, in a thunderstorm. My father died when I was two, and my brother Ian and I were brought up my mother. I always wanted to write - when people asked me what I wanted to be when I grew up, I used to say "I'm going to be a writer" - very definite.

I've always loved reading, and I spent most of my childhood trying to make real life as much like a book as possible. My friends and I had a secret club like the Secret Seven, and when I was nine I got most of my hair cut off because I wanted to look like George in the Famous Five. I was a real tomboy - I liked riding my bike, climbing trees and building dens in our garden. And I liked making up stories. I used to wander round my school playground at break, making up stories in my head.


I went to two secondary schools - a little Quaker school in North Yorkshire (where it was so cold that thick woolly jumpers were part of the school uniform) and a big comprehensive. I was very lonely at the little school, but I made friends at the comprehensive and got on all right. I didn't like being a teenager very much, though.

After school, I got to be an adult, which was fantastic. I went and worked in a Red Cross Hospital in Japan and then travelled around Australia and New Zealand. I jumped off bridges and tall buildings, climbed Mount Doom, wore a kimono and went to see a ballet in the Sydney Opera House. Then I came back and did a degree in Philosophy and Literature at Warwick. In my third year, realising with some panic that I was now supposed to earn a living, I enrolled in a masters in Writing for Young People at Bath Spa. It was here that I wrote Ways to Live Forever. I also won the prize for the writer with most potential, through which I got my agent. Four months later, I had a publisher.

I now live in a little house in Oxford, writing stories, and trying to believe my luck.



Photo by Eric Luke
---
Featured Books, with extracts by Sally Nicholls
---
Loading other books by Sally Nicholls...