Featured Books, with extracts, by Roger Mcgough
Loading other books by Roger Mcgough...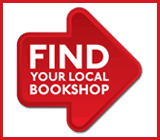 Author Info
Author's Website
Author's Tweets
Fri, 29 May 2015 @ 10:28


Fancy a poetry workshop/holiday?Mid-France, mid-September?Contact sheilalarge@btinternet.com

Wed, 15 Apr 2015 @ 12:45


Reading poems to kids and well behaved adults at Barnes OSO centre. Saturday 25 April. Brand new book festival..@kidslitfest

Mon, 13 Apr 2015 @ 12:10


I wanna be the leader I wanna be the leader Can I be the leader? Promise? Promise?Yippee I'm the leader, the leader.OK What shall we do?

Fri, 10 Apr 2015 @ 11:05


Filming in Galway with Alun Armstrong. Don't get to tweet that very often.

Wed, 14 Jan 2015 @ 13:49


Hope to catch 'Roger McGough's Other Half' at 11 pm on Radio 4 tonight.(As does my other half)..
Did you know
At Lovereading4kids you can download and read an Opening Extract and an online review of books by Roger Mcgough and hundreds of other authors.