Author's Website
www.gayleforman.com/
Author's Blog
www.gayleforman.com/blog/
Did you know
At lovereading
4kids
you can download and read an opening extract and an online review of books by Gayle Forman and hundreds of other authors
Children's Author 'Like-for-Like' recommendations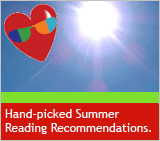 Need to send a gift?
Click to buy book vouchers
Gayle Forman - Children's Author
---
Gayle Forman is an award-winning journalist who has written articles and books for both adults and teenagers. She lives in Brooklyn with her husband and daughter.
---
Featured Books, with extracts by Gayle Forman
Just One Day
Gayle Forman
After just one day together, a spark bursts into a flame between Allyson LuLu Healey and laid-back Dutch actor Willem De Ruiterthat, or so it seems to Allyson. Until the following morning that is, when she wakes up after a...
Featured in:
14+ readers
Format:
Paperback -
Released:
10/01/2013
Info
Extract
Wishlist
Compare Price
Buy
---
Loading other books by Gayle Forman...