Author's Website
lenoreappelhans.com/

Author's Tweets
Mon, 15 Sep 2014 @ 16:59


RT @ElanaJ: ELEVATED is #free this week! #YA #versenovels http://t.co/PPDGm7klmX

Mon, 15 Sep 2014 @ 16:30


Hey London - @Reader_Fictions and I are coming atcha tomorrow!

Sun, 14 Sep 2014 @ 13:43


A very happy birthday to @Reader_Fictions - hope you enjoyed your rum hot chocolate :D

Fri, 12 Sep 2014 @ 16:49


RT @becfitzpatrick: Win Britt's vest from the cover, $50 @UrbanOutfitters card & more at http://t.co/ZZgxlZrc3b! #blackicefriday http://t.c…

Fri, 12 Sep 2014 @ 16:44


You know how I said I would never read/watch THE FAULT IN OUR STARS? Well, I watched it on the plane. And ... I liked it!
Author's Blog
presentinglenore.blogspot.co.uk/
Did you know
At lovereading
4kids
you can download and read an opening extract and an online review of books by Lenore Appelhans and hundreds of other authors
Children's Author 'Like-for-Like' recommendations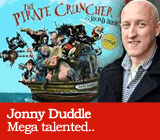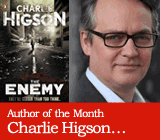 Need to send a gift?
Click to buy book vouchers
Lenore Appelhans - Children's Author
---
Lenore Appelhans is an American living in Germany. She graduated with a degree in multilingual communication and has worked as an award-winning freelance advertising copywriter.
Level 2 is her debut novel.
---
Featured Books, with extracts by Lenore Appelhans

Level 2
Lenore Appelhans
February 2013 Debut of the Month.
In this sci-fi fantasy full of inventive technical detail and shot through with a love affair, Felicia Ward, living in a pod chamber with all the other drones who are trapped in...
Featured in:
14+ readers
|
Books Reviewed by Children
|
Debuts of the Month
|
eBooks
Format:
Paperback -
Released:
15/01/2013
Info
Extract
Wishlist
Compare Price
Buy
---
Loading other books by Lenore Appelhans...