Featured Books, with extracts, by Lenore Appelhans
February 2013 Debut of the Month.
In this sci-fi fantasy full of inventive technical detail and shot through with a love affair, Felicia Ward, living in a pod chamber with all the other drones who are trapped in...
Lovereading Price:
£5.24
- Saving £1.75 (25%)
Format: Paperback | Released 15/01/2013
Info
Extract
Wishlist
Compare price
Buy
Loading other books by Lenore Appelhans...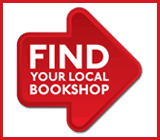 Author Info
Author's Website
Author's Tweets
Author's Blog
presentinglenore.blogspot.c...
Did you know
At Lovereading4kids you can download and read an Opening Extract and an online review of books by Lenore Appelhans and hundreds of other authors.