Author's Website
nicksharratt.com/contents.html
Did you know
At lovereading
4kids
you can download and read an opening extract and an online review of books by Nick Sharratt and hundreds of other authors
Children's Author 'Like-for-Like' recommendations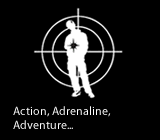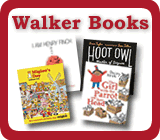 Need to send a gift?
Click to buy book vouchers
Nick Sharratt - Children's Author
---
Nick Sharratt is an established illustrator who lives and works in Brighton. He has won many awards including the Sheffield Children's Book Award (1996, 1997, 2000 and 2001), the Red House Children's Book Award (1997, 2001 and 2003), the Smarties Book Prize (2000), the Kate Greenaway Medal (2003) and the Blue Peter Award (2003).
Julia Eccleshare, the editorial expert on Lovereading4kids says, Nick Sharratt's big and bold illustrations leap off the page and delight very young readers with their cheerful simplicity. The sounds of lots of different noises are celebrated in Toddle Waddle as a toddler takes a simple stroll to the end of the pier and lots of others follow, greedy animals tuck into delicious plates of food at the lovely meal where manners don't matter in Chocolate Mousse for Greedy Goose.
---
Featured Books, with extracts by Nick Sharratt
Shark in the Dark
Nick Sharratt
A World Book Day 'Recommended Read' for 2011
Another helping of delicious surprises as Timothy Pope looks through his telescope at the night time world around him. What can he see? All young readers will enjoy Timothy's excitement as he searches...
Featured in:
3+ readers
Format:
Paperback -
Released:
02/09/2010
Info
Extract
Wishlist
Compare Price
Buy
---
Loading other books by Nick Sharratt...