Author 'Like-for-Like' recommendations
Your child has just finished a great book, but the author hasn't written a sequel yet? Or your child likes a particular author, but doesn't know where to discover other, similar writers? And all you want is to encourage them to love reading! We've all been there...
Lovereading4kids has a unique solution: hand-picked author Like-for-Like recommendations.
Simply select a favourite author from the list below. These authors are very well-known and it is likely your child has read books by them already.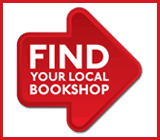 How it works
For each of these better-known authors, our 'Editorial Gurus', Julia Eccleshare and Andrea Reece, has recommended a number of others who write in similar styles.
Clicking on an author will show you a list of their books.
Lots of parents are giving us great feedback; they love accessing Lovereading4kids.co.uk with their children and, together, choosing books they know will be read and enjoyed. There's even more fun to be had as, when you have found an author, you and your child can download free Opening Extracts from the books and buy with a 20% discount!
As Lovereading4kids grows up we'll add more and more authors. You'll even be able to contribute by requesting that authors we haven't included be added to our recommendation engine.
This unique new service is free to all our registered users, including those of our parent site Lovereading.co.uk