Tuesday, January 24th, 2012
Fresh from celebrating Winnie the Pooh Day on 18th January and looking forward to celebrating Lewis Carroll's birthday on the 27th, January is a great month to launch children into a new year of reading. Find out more about some of the exciting new features on Lovereading4kids home page this month…
Demon Trappers – Forgiven - Jana Oliver – 13+ … 3rd in the HUGELY popular series for girls about plucky Riley Blackthorne, who follows in her father's footsteps to rid the world of demons… and while you're there, we have a whopping 100 copies of the 1st in the series, Forsaken, to give away so if you've yet to dip into this series then here's your chance before the 3rd one comes out! Click here to have a chance to win.

We love the 'How The …' concept here. Following the huge success of How The World Works with its fully interactive, pop up explanations of the world we live in for youngsters aged 5+, the brilliant How The Weather Works has just been released. More brilliant explanations from the winner of the Royal Society Young People's Book Prize! A classic for every bedroom shelf. Find out more today.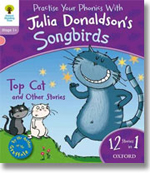 Phonic reading is a proven method of helping young children to develop their reading skills. The Songbirds reading scheme written by the current Children's Laureate, the creator of the Gruffalo stories, Julia Donaldson is all you'll need to give your little ones a leg-up to a whole life of loving reading! At the tender age of 6, author Julia Donaldson taught her own sister to read by the phonic method and has been hooked ever since! This series which she has created with the help of Oxford Children's Books encompasses a wonderful array of enjoyable stories that kids love to learn with. Find out more today.
A Gentle Reminder…
We love thinking of ways to make it easier for you and your kids to find great books to read and here are two special sections that we hope do just that …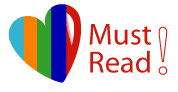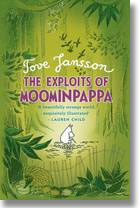 Exactly what it says on the tin! This is a one-stop shop of must-read children's literature, old and new, for book lovers of all ages. This month we have been revisiting the amazing The Exploits of MoominPappa , first published in 1950, would you believe! It's now re-released all shiny and new in 2012. Click here for more essential reads.

This has been a real hit with parents and kids alike. Dyslexia need not be a hindrance to reading and this section helps you find books specifically targeted to your children's individual ability to give them the

confidence to love reading. Each title has an 'Interest Age' and a 'Reading Age'. The bulk of the books are from the UK's pre-eminent publisher, of books for dyslexics, struggling and reluctant readers, Barrington Stoke.
Another popular section is our Great Books for Boys, packed full of high octane adventures that will get any boy hooked on books. We have refreshed the section for 2012 so if you have boys who need some encouragement with reading then look no further. Many of the books for younger readers will be great for reading aloud at bedtime too. Discover some great books today.
So, Happy New Year from all of us! Here's to a 2012 of literary adventure! And of course, we'll be with you all the way with our monthly shoves-in-the-right-direction. See you in Feb!
We are big fans of local libraries here at Lovereading4kids and are very pleased to endorse National Libraries Day 2012. This great initiative will take place on 4 February and drive home the importance for education, development and community of good, well-funded libraries.
Do get yourself and your kids down to the library if you can in the run up to 4 February when all sorts of activities are taking place. And don't forget , if you don't use your local library you may lose it.
There's also a book to accompany National Libraries Day. The Library Book features contributions from literary greats such as Stephen Fry Zadie Smith and Alan Bennett. Famous writers tell us all about how libraries are used and why they're important. Please do support you local library…
Happy Reading and more from us in Febuary