Lovereading4Kids' Founders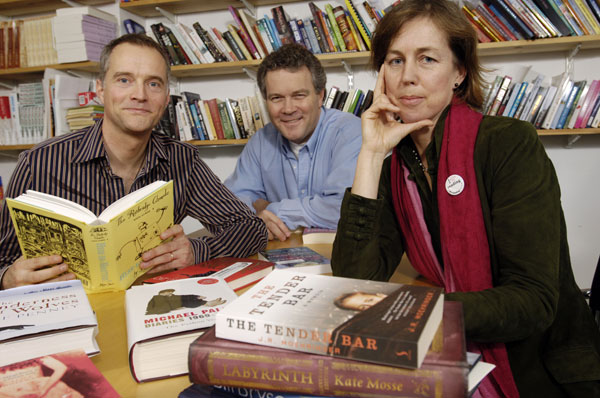 Meet the brains behind Lovereading4Kids.
Peter Crawshaw

Co-founder & Director
contact
My great loves in life, aside from my wife and three sons, are technology and books. These two passions have come together nicely with Lovereading, where we use the best of the net, and the best people, to make choosing books a joy.
When I was seven I read The Hobbit, which really kick-started my reading life. Now I sometimes take a longer route to work just to fit in a few more pages of whatever novel I'm absorbed in. I love good crime fiction but, unsurprisingly, I now read a wide variety of fiction because of the day job.
Before starting Lovereading with Louise and Hugh, I worked for more than 15 years in some large companies, as well as running my own marketing consultancy. Probably most useful to my work now were the five years I spent at Book Club Associates.
Louise Weir

Co-founder & Director
contact
My love of reading only really began in my early teens; before this I was busy trying to be different from my bookworm sister. But when I discovered what I was missing out on I wasted no time in devouring every book I could find, from action and adventure to more girly fiction. I'll be the first to admit that high-brow literature isn't for me.
My children have grown up with Lovereading4kids and as a consequence I have become a huge fan of 'tween' and teen fiction. There are so many great authors writing in this area and not just J K Rowling though her novels together with authors like Michael Morpurgo, Jacqueline Wilson, Anthony Horowitz and David Walliams to name just a tiny selection have been responsible for helping to increase literacy amongst children and teenagers.
I've spent almost 20 years in the book publishing/retailing industry working in some of the top five publishing houses in the UK, and have been responsible for launching many, now internationally famous, authors in the adult's and children's market.
Hugh Salmon
Co-founder
contact
I've always loved reading, but I seem to have two problems. The first is I can only read when I'm able to give a book my undivided attention i.e. the rare occasions when my two sons and my daughter are out, and the TV is switched off. The other is time. I find it frustrating to read a couple of pages of a book, put it down, then pick it up again later to read a couple more. And if I read before bed I always seem to nod off and lose my place.
But recently I've discovered a new trick. My favourite genres on Lovereading are literary/contemporary and biography/autobiography. So I save the novels for when I can give them my absolute undivided attention, and I listen to the biographies and autobiographies on audiobook. They're not so plot driven, so they're great to listen to in a more sporadic fashion.
My career background is in major multinational advertising agencies and for a time I managed O&M Thailand, the biggest agency in Asia outside Japan. In 1999 I founded my own advertising agency, eponymously named The Salmon Agency, and one of our clients was the publisher Hodder Headline, which is how I met Louise.