Author of the Month - Louis Sachar
We have chosen the brilliant Louis Sachar as our Author of the Month. He is the award-winning author of over 25 novels including the bestseller and modern classic Holes, which we think is a must-read for all children. His latest novel, Fuzzy Mud is published this month...a cracking new mystery story featuring some truly terrifying genetically modified mud!
See ALL Authors in this category
See ALL Featured Books (with opening extracts) in this category
Share this page

Author photo credit © Perry Hagopian
Julia Eccleshare has chosen Fuzzy Mud as her August Book of the Month and says of Louis Sachar - "Best-selling author Louis Sachar took the world by storm with Holes, his remarkable story about a group of boys in a reform camp. But he deserves to be just as famous and popular for his many other books which display his hallmark qualities of warmth, empathy and understanding of all kinds of young readers but especially those whose lives have gone a bit awry. Young readers are immediately attracted to Louis Sachar's novels for his great and unusual stories and for his exceptional understanding of some of the challenges of growing up."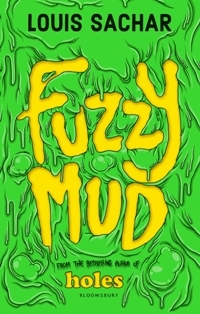 We asked our Lovereading Reader Review panel to read Louis's new novel, Fuzzy Mud.
'Fuzzy Mud is a really exciting and gripping book. I love all the characters and the plot is amazing. I couldn't put it down. I would recommend it to anyone and everyone.' Natalie Hunter, age 13

'Fuzzy Mud is an amazing book, which I couldn't put down. It was a great story from start to finish, with strong characters and good contrast.' - Jack Wilson, age 13

You can read more reviews here.
..............................................
Louis lives in Austin, Texas, where he writes novels and plays quite a lot of bridge.
He has won many book prizes including the National Book Award and the Newbery Award.
There is also more information on Louis and his books at www.louissachar.com.
---