One of the real treats of working in the book world is being one of the few who get to read books before they are officially published.
Uncorrected proofs, as they are termed, are the editions of the books produced in small numbers and sent to book reviewers and the book buyers of large book chains.
Well through Lovereading4kids you can now get on the inside track with our 'Exclusive Pre-publication' genre.
Each month we will feature a small selection of books that are due to be published officially in the coming months.
You will be able to download and print off an opening extract of these 'not even on the presses' books and decide whether your children will like it enough to pre-order it and be sent it the minute it's published.
There will also be opportunities to win uncorrected proof copies signed by the author - for any reader this really is something to treasure.
---
Children's Author 'Like-for-Like' recommendations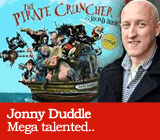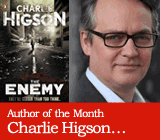 Need to send a gift?
Click to buy book vouchers
Tweet
Exclusive - Pre Publication Books
Featured Books
---

The Imaginary
A. F. Harrold
A richly visualised story which explores imaginary friends and the very special role they play in children's lives. Amanda and her imaginary friend Rudger have the best of times playing together. While Amanda's mother accepts the existence of Rudger she...
Featured in:
11+ readers
|
9+ readers
|
Books Reviewed by Children
|
Pre-Publication
Format:
Hardback -
Released:
23/10/2014
Info
Extract
Wishlist
Compare Price
Buy

Timmy Failure We Meet Again
Stephan Pastis
Timmy Failure and his sidekick polar bear, Total, return once again for this third instalment into the trials and tribulations of running a detective agency on the verge of global domination. This could well be his most important case so...
Featured in:
11+ readers
|
7+ readers
|
9+ readers
|
Books Reviewed by Children
|
Pre-Publication
Format:
Hardback -
Released:
30/10/2014
Info
Extract
Wishlist
Compare Price
Buy
See ALL Featured Books, with Opening Extracts, in this category