Books by Helen Stockton

When it's time to get serious about success, it's time to get York Notes To achieve top grades in English Language and Literature, you need to be confident in your reading skills. With everything you need right at hand, and suitable for all exam boards and abilities, this York Notes Revision and Exam Practice guide will help you to master the core skills, write brilliant responses and face your exams with confidence. Learn and revise every essential skill - Use each of the dedicated sections to learn and revise key reading skills, from interpreting and analysing to commenting on and comparing texts, and how to apply them in the exam. With key definitions, examples from typical Language and Literature tasks, regular tests and 'Top tips' for improvement, you will feel confident you have covered all bases. Stay focused and aim high - Use the mix of short and longer tasks to practise your skills and vary your revision. The targeted 'Aiming high' tips will to help you to perfect your techniques and write the very best answers you can. Check your progress - Use the regular 'Apply your skills' tasks and 'Progress check' bullets to monitor what you have achieved. Use the full answer key provided to assess your improvement. Feel ready for the exam - Regular quick tests and longer exam-style tasks with sample answers show the level to aim for.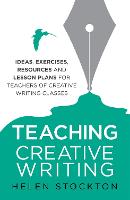 If you teach creative writing or facilitate a writing group, you will want to inspire, inform and encourage would-be writers. This book is a unique, practical resource offering guidance, ideas and exercises to help you do just that. It moves from planning and structuring courses to giving ideas and exercises on all the key aspects of creative writing, providing a wealth of really useful advice and tips. It will enable you to pass on your particular expertise and enthusiasm imaginatively and professionally to all your students. * Guidance on teaching all the skills of creative writing * Ideas on lesson content, example exercises and setting homework * Support on dealing with problems and adapting for different abilities * Tips on group management and feedback * A - Z of specific genres with examples of learning activities. This book will ensure that your teaching will be effective, fun and immensely rewarding.
NEW INDIE AND SELF PUBLISHED BOOK REVIEW AND PROMOTION SERVICE LAUNCHED!
Read More
×