Books by Kimberly Pauley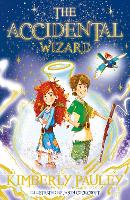 A raucously funny middle grade adventure for fans of Terry Pratchett and Neil Gaiman... Twig is the last surviving apprentice of the great wizard Ripplemintz, which, as a job, is just as terrifying as it sounds. Oh Ripplemintz always means well, but for a wizard of such high regard he really does make an awful lot of mistakes. And who's always left to clear them up? That's right - Twig. So when Ripplemitz's most powerful spell is let loose on the world, off Twig goes to catch it. And catch it he does, except... not quite in the way that he intended. Because, instead of catching it in an enchanted jar, Twig sort of... well... catches it in... HIMSELF. Brilliantly funny, with bags and bags of heart, The Accidental Wizard is destined to leave you completely spellbound.

Ask Aria Morse anything, and she must answer with the truth. Yet she rarely understands the cryptic words she's compelled to utter. Blessed-or cursed-with the power of an oracle who cannot decipher her own predictions, she does her best to avoid anyone and everyone. But Aria can no longer hide when Jade, one of the few girls at school who ever showed her any kindness, disappears. Any time Aria overhears a question about Jade, she inadvertently reveals something new, a clue or hint as to why Jade vanished. But like stray pieces from different puzzles, her words never present a clear picture. Then there's Alex, damaged and dangerous, but the first person other than Jade to stand up for her. And Will, who offers a bond that seems impossible for a girl who's always been alone. Both were involved with Jade. Aria may be the only one who can find out what happened, but the closer she gets to solving the crime, the more she becomes a target. Not everyone wants the truth to come out.
CHECK OUT OUR INDIE AND SELF PUBLISHED BOOK REVIEW AND PROMOTION SERVICE
Read More
×