Books by Sabrina Weiss

Discover 100 of the planet's most magical islands - their wildlife, trees, diversity, people, treasures, and more - in this beautifully illustrated book. From islands that have been taken over by animals to disappearing islands, islands made of shells, artificial islands, and even islands that were once prison colonies, Amazing Islands is a whirlwind tour of some of the smallest land masses in the world. Discover the Galapagos islands, home of giant tortoises, penguins, boobies of all colours. Or visit Jiangxin Park in China, a natural island with an awe-inspiring, giant bookshop. Islands can be home to giant cities, colonies of cats or crabs; they have been hideouts for pirates and have given rise to astonishing scientific discoveries. Amazing Islands celebrates island life in all its extraordinary diversity.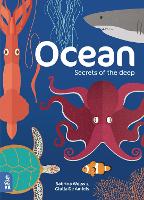 Discover menacing sharks, playful dolphins, clownfish, penguins, turtles, whales, shimmering jellyfish and gargantuan giant squid. Ocean: Secrets of the Deep is jam-packed with hundreds of stylish illustrations and many more surprising facts about the world's marine life. First, readers are taken on a journey from the water's surface to the deepest, darkest depths of the oceans, stopping off at coral reefs and kelp forests. Next, information-packed spreads offer answers to questions such as: How do turtles keep clean? Do whales talk to each other? and What can humans do to save the ocean?
CHECK OUT OUR INDIE AND SELF PUBLISHED BOOK REVIEW AND PROMOTION SERVICE
Read More
×