Why did you decide to write Bomber?
My family have friends in Norfolk and they live in a converted pub in the countryside. During the war American airmen used to come and drink in this pub as there was an airbase not far away. I always felt a little haunted by the thought of these young Americans, far from home, taking a few moments of pleasure in the East Anglian countryside, before they had to set off on a terribly dangerous flight over Germany. Most of them were barely more than boys.
How dangerous was flying in a bomber?
Bomber crew flying over Nazi occupied Europe were constantly in danger of being shot down by anti-aircraft guns (flak) or by enemy fighter planes armed with machine guns, cannons and rockets. These great bombers sometimes crashed on take off or landing, and collisions were not uncommon. The casualties speak for themselves. In 1943, when my book is set, 3 out of 4 bombers were shot down during a tour of duty, which would be 25 missions. Sometimes, not everyone was killed when a bomber went down. Some would parachute to safety, where they would either escape back to England or spend the rest of the war in a Prisoner of War camp. But often, everyone was killed, especially if there was a direct hit from flak or a German fighter plane. If the aircraft had yet to drop its bomb load, the fliers inside would often be killed in a blinding explosion. The USAAF in Europe had the highest casualty rate in any American fighting force – even more than the US Marines, who were renowned for doing the toughest fighting.
How did you research it?
I'm very keen for my books to be 'good history' so I do a lot of research before I write them. I want someone who was there to read this and think 'yes, it was like that.' I read a lot of books, watched many documentaries, and visited museums and airbases. I went to Seething airstrip, which was the American base near to where my friends live, and tried to imagine what it would feel like to be a 17 year old boy, there during the war. I'm a great believer in walking the same streets as my characters, if I possibly can. Part of the book is set in France, so I wrote about many of the places I have visited myself there, when I've been for work or holiday.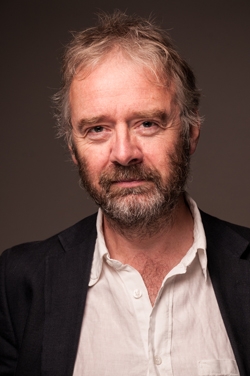 The book is published on the seventieth anniversary of the end of the Second World War in Europe. Can you answer some questions about the war?
What was the turning point, when the war turned in favour of the Allies?
The German 6
th
 Army was destroyed at Stalingrad over the winter of 1942-43. I think this meant the Nazis were never going to beat the Russians and they never really recovered from that battle. During the war the Russians lost infinitely more soldiers than the Allies and they paid a very heavy price for their victory against the Nazis. I hope we never forget that. In the west, the D-Day landings left Germany fighting on both her western and eastern fronts, and made a Nazi defeat inevitable.
Why did the Germans surrender? 
Hitler committed suicide at the end of April, when the Russians occupied Berlin. A week later, the German military forces officially surrendered. Allied and Russian troops were meeting up all along the front line and it was obvious to all that Germany had lost the war.
How soon after VE day did the process of denazification begin?
Almost at once. German civilians were taken on compulsory tours of the concentration camps or made to watch newsreel films of the liberation of death camps. After that no one could be in any doubt as to the truly evil nature of the regime they had supported.
What are the Nuremburg trials and when did they occur. 
The Nazis had destroyed their own country and much of Europe and had done things that can only be described as barbaric. The victors wanted to be seen to be fair and decent with the German people, but they also wanted to punish the Nazi leaders. They were sent to trial at Nuremberg, a city in Germany where the Nazis had had some of their most famous rallies.  Most of the leaders who went to trial (many had killed themselves when the war ended) were held accountable and sentenced to death. A few were sent to prison for ten or twenty years. The trials began in the late autumn of 1945.