WE LOVE BOOKS!
LoveReading4Kids is the biggest and best recommendation site for children's books. Our passion for children's books ranges from toddlers to teens and ensures that whatever the age, whatever the interest, that you have a steady stream of brilliant book recommendations for your child. Created in the same successful format of our original book recommendation website, LoveReading, we have a panel of editorial experts that select books right across the genres and read the latest releases to keep you fully updated. We also offer a variety of FREE services for parents and anyone who is interested in buying the best books for boys and girls of all ages.
You can subscribe to our personalised newsletters which help you keep up to date with the latest and greatest book releases while receiving recommendations tailored to you. Sign up and select your preferences by registering with us today and receive our newsletters filled with the latest book recommendations in the categories of your choice.
Our Star Books are a selection of our personal favourites from the books we've read each year. The ones that have really stood out from the crowd for us. We always say if you're only going to buy a few books this year, take a look at our Star Books selection.
We have a HUGE giveaway for you to really end your year on a high. We're giving you the opportunity to win all the books selected as Star Books this year! That's around 40 books that you can keep for your family, share with friends, donate to a local school, or give as Christmas gifts. A year's worth of reading and some of our favourite books published this year, for you, for free! What are you waiting for?
Looking for more incentive to enter? Take a look at the size of this book tower taken by our Managing Director, Deborah Maclaren: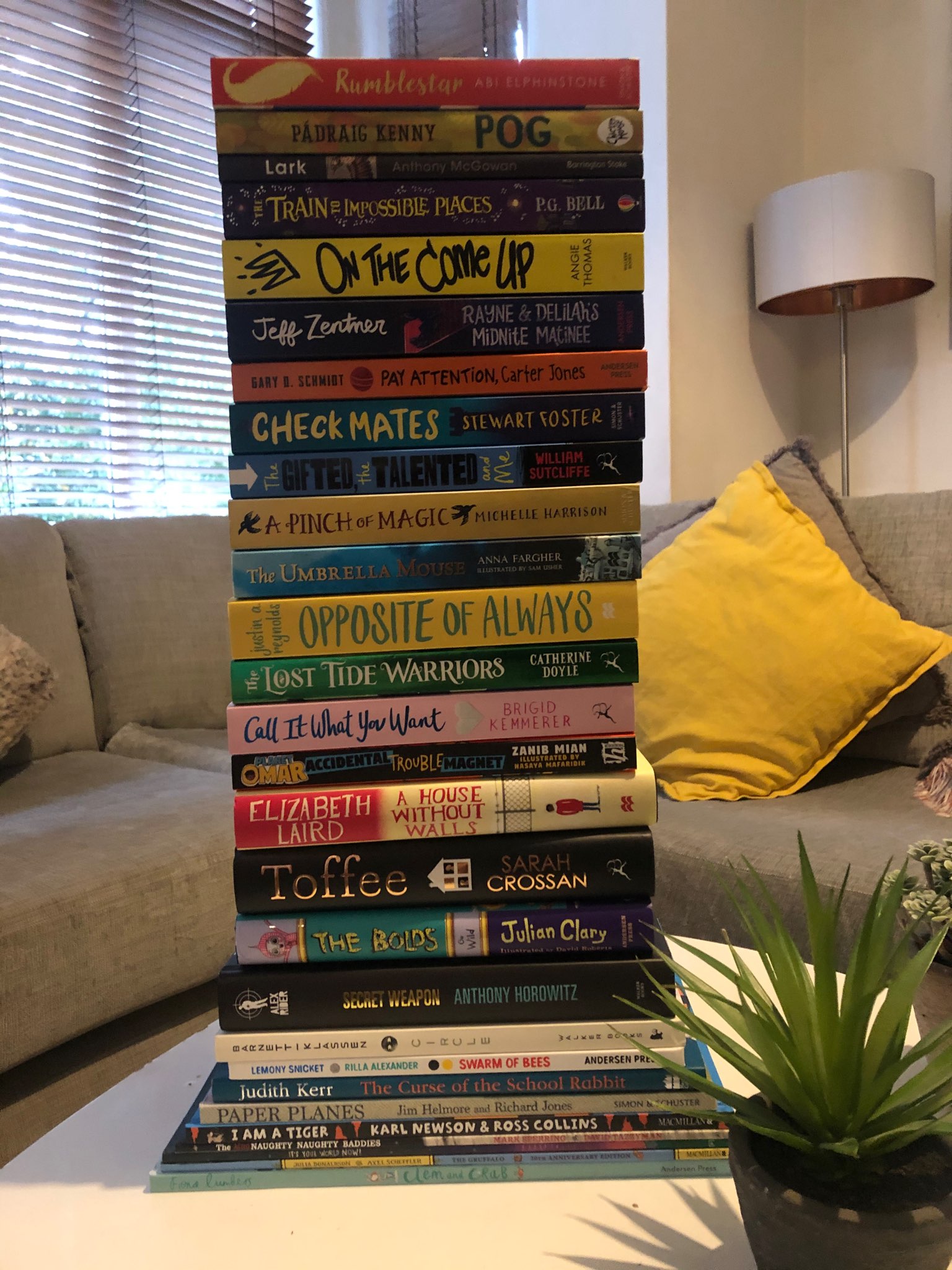 And that's not even all of the books!! How could you not want to enter?
We have books in our Star Books selection for all ages and genres - fiction and non-fiction! If your family doesn't require a certain age, you can always share them with friends or donate them to a local school or library! This really is too good of an opportunity to miss!
Here are the full list of books in this giveaway, simply click on the title to find out more about them!
The Gruffalo 20th Anniversary Edition by Julia Donaldson, Illustrated by Axel Scheffler
Lark by Anthony McGowan
The Train to Impossible Places by P. G. Bell, Illustrated by Flavia Sorrentino
A Pinch of Magic by Michelle Harrison
On the Come Up by Angie Thomas
Circle by Mac Barnett, Illustrated by Jon Klassen
The Bolds Go Wild by Julian Clary, illustrated by David Roberts
The Boy Who Flew by by Fleur Hitchcock
Rayne and Delilah's Midnite Matinee by Jeff Zentner
Proud by Juno Dawson & Various Authors, Illustrated by Selected illustrators
The Astro Naughty Naughty Baddies by Mark Sperring, Illustrated by David Tazzyman
Pog by Padraig Kenny
Opposite of Always by Justin A Reynolds
Wilderness - Jungle, Rain Forest, Tundra, Taiga, Savanna, and Desert by Mia Cassany, Illustrated by Marcos Navarro
Alex Rider: Secret Weapon, by Anthony Horowitz
Planet Omar: Accidental Trouble Magnet by Zanib Mian, Illustrated by Nasaya Mafaridi
Toffee by Sarah Crossan
The Umbrella Mouse by Anna Fargher, Illustrated by Sam Usher
The Gifted, the Talented and Me by William Sutcliffe
Pay Attention, Carter Jones by Gary D. Schmidt
It's Your World Now! by Barry Falls
I am a Tiger by Karl Newson, Illustrated by Ross Collins
Paper Planes by Jim Helmore, Richard Jones
Rumblestar by Abi Elphinstone
Call It What You Want by Brigid Kemmerer
Check Mates by Stewart Foster
My Cousin Is a Time Traveller by David Solomons
Clem and Crab by Fiona Lumbers
Swarm of Bees by Lemony Snicket, Illustrated by Rilla Alexander
The Curse of the School Rabbit by Judith Kerr
The Lost Tide Warriors by Catherine Doyle
A House Without Walls by Elizabeth Laird, Illustrated by Lucy Eldridge
Hey Sherlock! by Simon Mason
Bearmouth by Liz Hyder
Guardians of Magic by Chris Riddell
Chessboxer by Stephen Davies
Zippel The Little Keyhole Ghost by Alex Ruhle, Illustrated by Axel Scheffler
The Somerset Tsunami by Emma Carroll
North Child by Edith Pattou
With the Fire on High by Elizabeth Acevedo
So, what are you waiting for? You can enter our competition here!