As August draws to a close and we all hope for good weather for the Bank Holiday don't forget books when it comes to keeping your children occupied and happy in the holidays. Much more absorbing and rewarding than any game console and we have dozens and dozens of brilliant ones to recommend.
Strike gold before the crowds - Pre-publication exclusives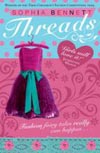 Threads
by Sophia Bennett
A vibrant and thought-provoking story for fashion-conscious girls of 11+. Shortlisted for the Times/Chicken House Fiction Award, this is not just a great book, it's pure gold.

Long Walk to Freedom by Nelson Mandela
A wonderfully illustrated children's version of the inspirational book by hero of our time, Nelson Mandela, perfect for 5+.

Tollins: Explosive Tales by Conn Iggulden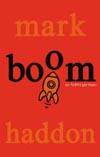 A magical book of short stories for 7+ readers about some creatures called 'Tollins' (just don't ever call them fairies!)…
Boom by Mark Haddon
7+ readers A nuclear-powered hundred-ton adventure about two boys who determine to find out what secret plan their teachers are up to. From the author of The Curious Incident of the Dog in the Nightime
Get closer to Authors with our new feature
New this month has been our Guest Editor genre. It's proved very popular so,  if you've not yet checked it out then you're in for a treat. Quite apart from Ali Sparkes' wonderful adventures for 9+ year olds she has also selected her favourite books that have inspired her writing.
Please tell your school about Lovereading4schools
With the new academic year comes the inevitable new 'booklist' from your children's school. It will probably be on a piece of paper in your child's school bag and chances are it will get lost and even if it doesn't the thought of trawling through a bookshop to find them is rather daunting. It's a different story however, if your school has already signed up to the
Lovereading4schools
. This free to use site lets the school create reading lists which you can access and order from in the 'click of a mouse' – and 5% of what you spend goes back to the school for them to build their library – can't say fairer than that. Find out more today and if you like it please make sure to tell your school….
Tintin and The Rainbow Orchid – Brilliant graphic adventures

If you loved
Tintin
as a child pass the love onto your own children with the beautiful 3 in 1 editions that have been recently re-released to coincide with the 100th year of Herge's birth. And, if
Tintin
proves a hit you and your kids are sure to get hooked on
The Rainbow Orchid
too; an ambitious graphic-novel combining classic storytelling with cinematic artwork à la Tintin. If you're quick you might even land a prestigious first edition, which in years to come just might be worth a bob or two. What we can absolutely guarantee is a brilliant rollercoaster ride.
This Month's Highlights - Not to be missed
Free to enter competitions to win lots of Book Goodies
We always have lots of exclusive competitions on Lovereading for kids. Most of them are free to enter – so what are you waiting for! This month you could win, a family ticket to the British Museum, a family ticket to the spooky Wookey Hole cave and lots of signed books.
Find out more today
.
Happy reading and if you are still stuck for a great read then do try our Books of the Month. Our favourites this month are: for 3+ readers the stunningly illustrated Call me Gorgeous by Giles Milton. For 7+ readers the simply hilarious Dissapearing Moon by Simon Bartram and finally for 14+ readers the thrilling Grass by Catherine McPhail.