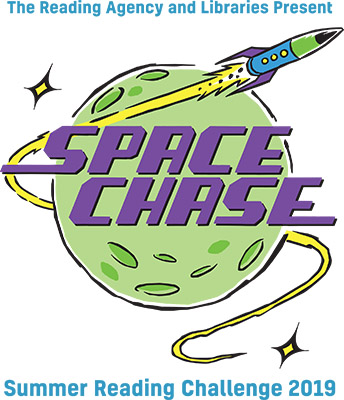 This summer, The Reading Agency and libraries will be taking children across England, Scotland and Wales on a journey into space. Inspired by the 50th anniversary of the moon landing, Space Chase will take young readers on an out-of-this-world adventure with super space family, The Rockets. The Challenge touches down in libraries across the UK this summer and features bespoke artwork from top children's illustrator Adam Stower.

Sign up at your local library– it's free!

The Summer Reading Challenge is an annual event aimed at 4-11 year olds. Children are encouraged to read six books of their choice during the summer holidays with collectable incentives and rewards, plus a certificate for every child who completes the Challenge. You can sign your child up for the Challenge at your local library and – and it is completely free. This year 96% of local authorities across the UK have signed up for the Challenge, so it's more than likely that your library is also taking part.


Introduced to the world in 1999, this year also marks the 20th anniversary of the Challenge, a scheme that has become one of the UK's biggest reading programmes. In its launch year the Challenge was an instant success with over 440,000 children taking part. In the last twenty years, children have taken part in the Challenge over 13 million times. Many children love the Challenge so much they take part year after year!

"I was so excited that I was the first person to sign up to the challenge. My mum would take me after school as soon as I knew the date and we would sign up; get my reading booklet and I would go and find the book. I always made sure it was in neat condition. I loved it. Going to the library every week and doing all of the craft sessions too. It was free and fun, and it was the highlight of my summer holidays." Emma, a Summer Reading Challenge participant
So, what's so great about reading during the summer?
Research suggests that reading for pleasure is more important for children's cognitive development than their parents' level of education and is a more powerful factor in life achievement than socio-economic background. Children who read books often at age 10 and more than once a week at age 16 also gain higher results in maths, vocabulary and spelling tests at age 16 than those who read less regularly.
Last year, we surveyed 1,434 families about the impact that taking part in the Challenge has had on them and their children, and almost 80% of parents and carers said that they believed the Challenge encouraged children to read more over the summer.
"The Summer Reading Challenge has been an excellent way to motivate my son to keep up with his reading and writing the reviews was good for handwriting. He is dyslexic so it is important we don't let his skills slip over the summer holidays. He has been very motivated, and we will use the library regularly from now on. I also intend to join too." Parent of 4-7-year-old boy, Birmingham
"It has taught my son that reading is about enjoying books not just having to learn how to read." Parent of 4-7-year-old boy, Kent
How to get involved
You can join the Summer Reading Challenge at your local library throughout the summer, and find book recommendations from other children as well as fun activities here: summerreadingchallenge.org.uk.

The Reading Agency is also calling for parents and carers to make #SpaceforReading this #SummerReadingChallenge. Join the campaign by submitting a photo of your own reading den with the tag @readingagency and the hashtag #SpaceForReading via social media and be in with the chance of winning a special prize. 
You can also follow the Summer Reading Challenge Facebook page, and The Reading Agency twitter @readingagency.