It's coming home, right? It's got to be surely? It's gotta be about time, please?
Just two games between us and victory. We haven't conceded a single goal in the UEFA EURO 2020 tournament so far. Who would have believed it?
Maybe Marcus Rashford, Gareth Southgate and the whole England team did?
It's certainly clear that Marcus has the sort of self- belief that all of us can learn from, and children will be inspired by.
Take his debut book that has recently been published, in collaboration with Carl Anka and Macmillan Childrens Books. Throughout the book it's clear that winning is about what you do every day, how you live your life and how you get better in all ways. The Afterword is inspirational in itself, from Tim Grover who has been the trainer, mentor and advisor to sport's greatest icons including Michael Jordan and hundreds of champions in sports and business.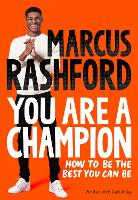 You Are A Champion is dedicated to every young person who is trying to find their way and Marcus's mum for helping him to believe that dreams can come true. It is a motivational book by the man of the moment, the inspirational Marcus Rashford, and co-writer Carl Anka targeted at kids aged 10-16. It's a positive and inspiring guide for life, packed full of stories from Marcus's own life and calling for the readers to be their OWN champion, and that if they believe in themselves, incredible things can happen. With engaging black and white illustrations and infographics, it's a great book to inspire any child to be the best they can be.
Marcus Rashford MBE is Manchester United's iconic number 10 and an England international footballer. His lobbying of the UK government during the pandemic made Marcus a household name, outside of sports fans, as he successfully lobbied a u-turn of their policy around free school meals.
Before he became a global star, Marcus was just a young boy, an average kid from Wythenshawe in South Manchester – with a dream. This book gives every child the tools they need to reach their full potential. With chapters covering everything from building your confidence to navigating adversity, finding your team, using your voice and stand up for other. And never stopping learning. With action points at the end of each chapter featuring brilliant advice and top tips from performance psychologist Katie Warriner, this is a practical guide for every child to believe that their dreams can come true.
This is the first book in a publishing partnership with Macmillan Children's Books who have partnered with the footballer and child food poverty campaigner to promote reading and literacy to children across the UK.
This new publishing partnership aims to equip all children across the UK with the resources to succeed in life by opening up access to reading material and emphasising the role that books play in helping children to develop life skills. We will have a particular focus on reaching children from vulnerable and underprivileged backgrounds.
Two fiction titles for readers aged 7+ will follow later in 2022. And we can't wait!
If you are looking for more books to inspire children, check out our 30 Children's Books to Improve Self-Esteem and Build Confidence collection.