Waterstones today announced Julia and the Shark by Kiran Millwood Hargrave and Tom de Freston as Children's Gift of the Year 2021.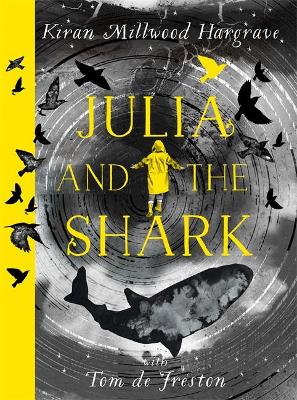 Every year Waterstones booksellers vote for the books they have most enjoyed recommending to their customers. Julia and the Shark, a beautiful, poetic and uplifting novel for younger readers, explores complex emotional experiences through a powerful combination of Millwood Hargrave's prose and de Freston's illustrations.
It's a captivating, powerful and luminous story from a bestselling, award-winning author about a mother, a daughter, and the great Greenland shark. With mesmerising black and yellow illustrations it's presented as a deluxe hardback with tracing paper inserts.
Kiran Millwood Hargrave and Tom de Freston say: "We are awed to be awarded this particular honour. We made this story to celebrate the natural world, to celebrate families, and to celebrate curiosity and strangeness. To think of our Greenland shark swimming into so many hands this Christmas is extraordinary. Thank you to each and every one of the booksellers who help our book find its readers."
Millwood Hargrave and de Freston met in 2009, when she was a student and he was artist-in-residence at the University of Cambridge. They have been a couple and collaborators ever since, but Julia and the Shark is their first novel.
If you are looking for other great gift suggestions, take a look at our LoveReading4Kids Book Box, which makes it super easy to give the gift of a book to all children from toddlers to teens.
Each order is beautifully packaged, tailored to the child and the books are new, highly recommended titles, endorsed by our experts. Subsrciption box, or one-off gift...you choose!