New research published today commissioned by Ladybird Books shows that 80% of parents and carers of children aged 3-10 years have said their child had asked them a question about the world around them in the last month.
However, only 37% of parents said they could adequately answer these questions, with parents of children aged 5-6 years having the most difficulty.
The research, commissioned by Ladybird Books, coincides with the launch of Everything Under the Sun: A curious question for every day of the year, which is a collection of 366 questions asked by children around the world and based on the award-winning podcast from Original QI Elf Molly Oldfield. Written with contributions by renowned experts the book helps children discover the answers to questions that they've always wanted to know, and encourages a love of curiosity.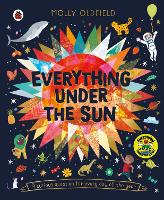 The research surveyed parents of children aged 3-10 years to find out if their child had asked a number of questions included in the book. Of these questions, the most popular questions asked by children were: Why do bees make honey? (58%), Where do babies come from? (56%) and Why does the tooth fairy collect my teeth? (57%).
However, only 39% of children had asked their parent about climate change within the last month, despite increased news coverage of climate disasters worldwide, with questions such as: Why do we cut down so many trees? (13%), Why does pollution cause climate change? (21%) and How much plastic is there in the sea? (27%) only being asked by small numbers of children.
The third series of Everything Under the Sun the podcast also launches today, Thursday 9th September with Stephen Fry as the first guest of the season. Other guests lined up for this series include Tom Fletcher, Sophie Dahl, Michael Morpurgo, Maddie Moat, The Natural History Museum and London Zoo.
*The survey was conducted in 2021 among 500 UK parents of children aged 3-10 years on OnePulse, the immediate consumer insight platform.