Announced as part of The Globe's Poetry By Heart award ceremony, the CLiPPA shortlist has been revealed. The list is a diverse collection that includes empowering spoken word poetry, a debut verse novel and a book of lively rhymes for the youngest poetry fans.
The CLiPPA was founded in 2003 to support, encourage and celebrate outstanding poetry and is the UK's only annual poetry award, administered by the CLPE. The Centre for Literacy in Primary Education (CLPE) is an independent national charity with a mission to raise the literacy achievements of young children.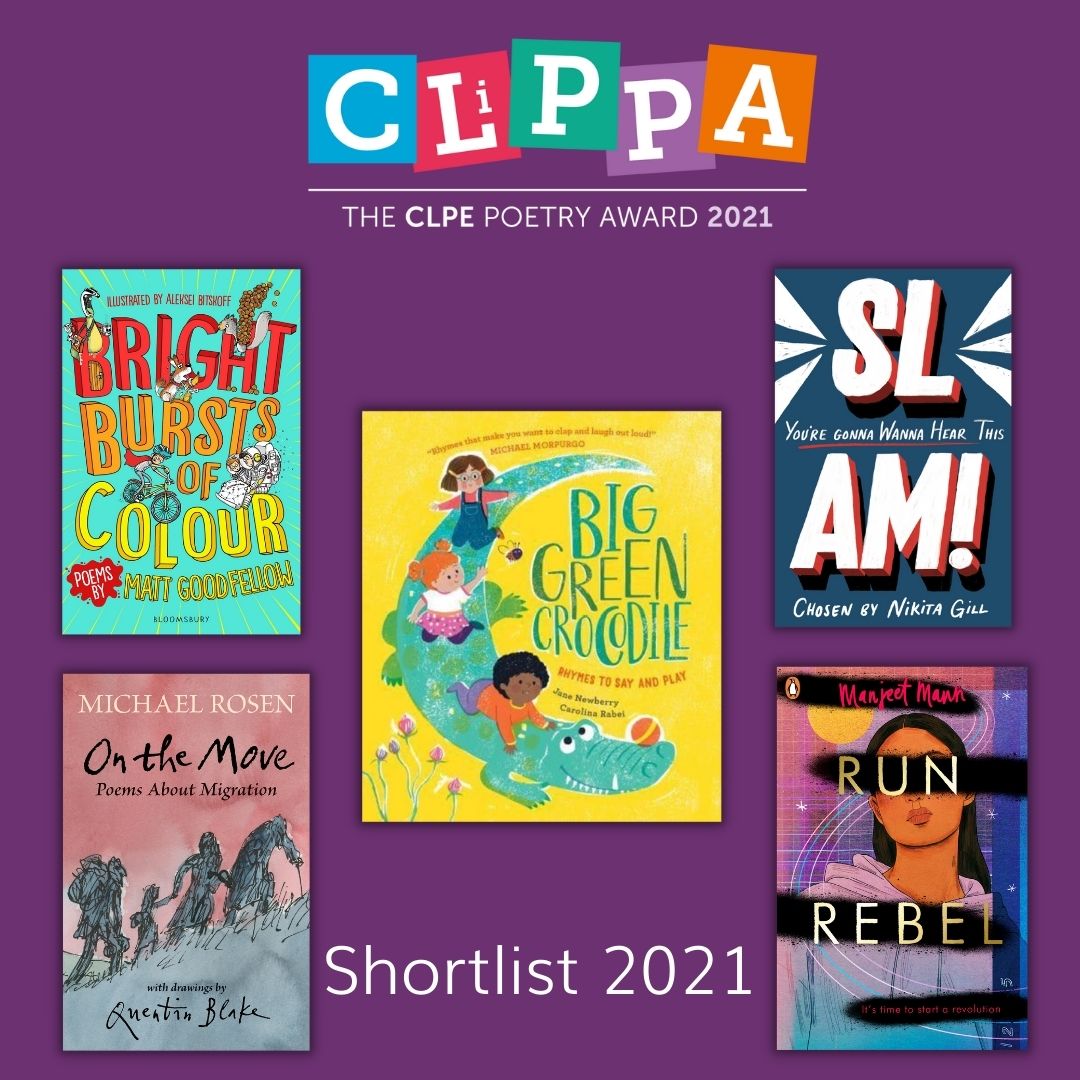 The five books on chosen for the shortlist are:
SLAM! You're Gonna Wanna Hear This, chosen by Nikita Gill, Macmillan
Nikita Gill brings together exciting new poets, all well known to poetry audiences but many making their first appearance in print; the judges hail this as a book to excite young people about all the potential of poetry, curated with skill and passion.
Bright Bursts of Colour, Matt Goodfellow, illustrated by Aleksei Bitskoff, Bloomsbury Education
The poems in Matt Goodfellow's collection range from the silly to the sensitive, and all will resonate with children aged 7 – 11. The judges admired the child's eye view, the dynamic representations of real-life experiences, and the book's understanding of a child's sensibilities. We were particularly thrilled to see Matt Goodfellow recognised in the line-up. As a National Poetry Day ambassador Matt is supporting the LoveReading4Kids 2021 Poetry Prize and there is a chance to win a school visit from Matt, plus £250 worth of books.
Run, Rebel by Manjeet Mann, Penguin
Compelling, powerful, and authentic, Mann's verse novel speaks directly to its YA audience. The judges loved the fresh voice and how a form that could feel archaic is made new.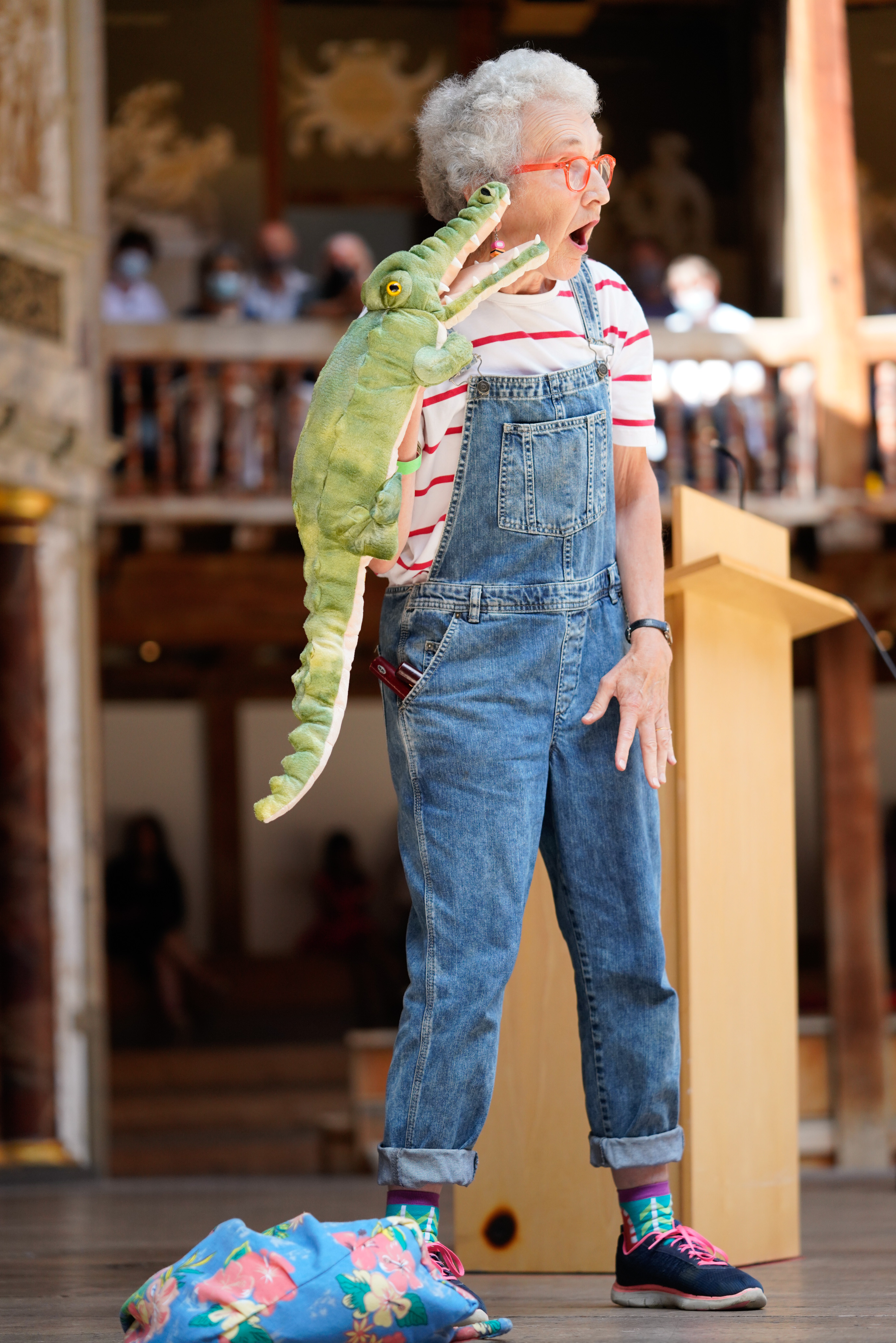 Big Green Crocodile Rhymes to Say and Play, by Jane Newberry, illustrated by Carolina Rabei, Otter-Barry Books
A collection of new nursery rhymes, this is a book for parents and adults to share with the very youngest to spark a lifelong love of poetry. The judges call it a perfect post-lockdown book, allowing adults and small children to connect and share poems. It's beautifully presented and perfectly illustrated. Jane is pictured here with her Big Green Crocodile (photo credit Marcus Duran).
On the Move, Michael Rosen, illustrated by Quentin Blake, Walker Books
On the Move is both personal and universal, with messages of home, identity and family. The judges found it full of emotion, delivered with a perfect sense of understatement; they praised the way words and illustrations provide pauses, allowing readers space to think.
On the announcement of the shortlist Allie Esiri, chair of the judges, said 'If you think your child doesn't like poetry, please share the books on this year's CLiPPA shortlist. They are varied – a picture book, an anthology, outstanding single collections and a verse novel – but each one reminds us what the best poetry for children can do. The poets capture real life experiences that will excite their audience and speak directly to them; they plant images and ideas and allow them space to grow. Poetry demands more than other kinds of literature but gives back more too and there are poems in these books that will remain in the minds of their readers forever. I'm particularly pleased that there is a book for the very young on the shortlist, but all these collections could start a lifetime of poetry pleasure.'
Louise Johns-Shepherd, Chief Executive, CLPE added 'After the challenges of the last eighteen months, we are delighted to be announcing the shortlist for the CLiPPA and thrilled to be doing it as part of the Poetry By Heart celebrations at The Globe amongst so many young poetry-lovers.'
The judging panel includes the 2020 winner Zaro Weil, who won with her joyful collection of nature poems, Cherry Moon and Allie Esiri, aka the 'poetry powerhouse', whose poetry anthologies include A Poem for Every Day of the Year and regularly top the bestseller lists.
We look forward to the announcement of the 2021 CLiPPA winner at The Cheltenham Literature Festival, on Monday 11 October. You can find more information at www.clpe.org.uk/poetryline/clippa
Poetry fans will enjoy our books celebrating A Love of Poetry and it's not too late for aspiring young poets to enter the LoveReading4Kids 2021 Poetry Prize.