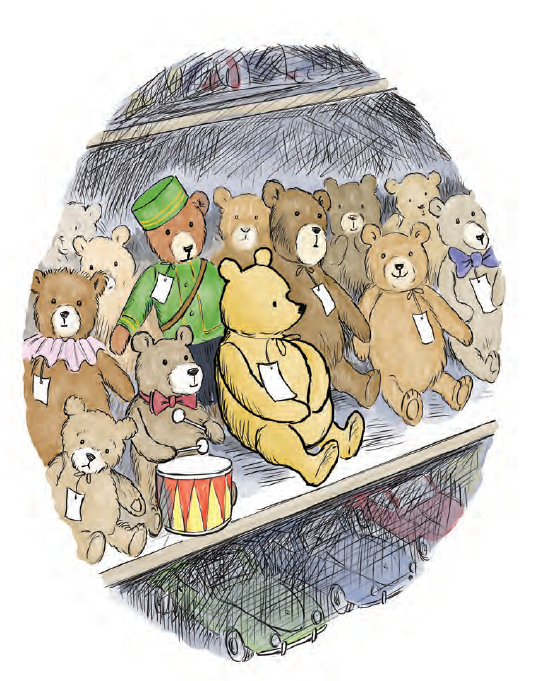 If you are as much of a Winnie-the-Pooh fan as us here at LoveReading4Kids, you'll be super excited to hear that on 30th September, Farshore will publish an official Winnie-the-Pooh prequel to celebrate the 95th anniversary of A A Milne's stories, which were originally published in October 1926. Winnie-the-Pooh: Once There Was a Bear has been written by Jane Riordan and illustrated by Mark Burgess in the style of E H Shepard.
Winnie-the-Pooh: Once There Was a Bear will take readers back to when Pooh was bought from Harrods for baby Christopher Robin. It will imagine the "before stories" of Pooh, Eeyore and Piglet for the first time, and readers will meet the younger Christopher Robin previously glimpsed in Milne's poetry.
The stories will take readers from London and Christopher Robin's Mallard Street playroom to the familiar surroundings of the Hundred Acre Wood, and follow Pooh and friends on a new series of adventures, with outings to the Natural History Museum and London Zoo, where Pooh meets his namesake, Winnipeg.
Readers young and old will enjoy meeting some familiar friends again as they embark on new adventures. The Shepard Trust said: "All those who love E H Shepard's iconic 'decorations' of Winnie-the-Pooh and his friends in the Hundred Acre Wood will be delighted by the wonderful new illustrations by Mark Burgess accompanying Jane Riordan's new stories of earlier times for Winnie-the-Pooh, Christopher Robin and their exciting adventures. With both illustrations and stories in the inimitable style of E H Shepard and A A Milne, children of all ages will delight in the happy exploits of our old and dear friends."
Roll on September. Up until then we'll be re-reading the original stories again and again and reminding ourselves just how much we love that little bear and his pals. And in the meantime, here are some of our favourite quotes
1. "You're braver than you believe, stronger than you seem, and smarter than you think." Christopher Robin
2. "Any day spent with you is my favourite day." Pooh
3. "A day without a friend is like a pot without a single drop of honey left inside." Pooh
4. "People say nothing is impossible, but I do nothing every day." Pooh
5. "The most important thing is, even when we're apart ... I'll always be with you ..." Pooh
6. "If you live to be a hundred, I hope I live to be a hundred minus one day, so that I never have to live a day without you." Pooh
7. "A hug is always the right size." Pooh
8. The things that make me different, are the things that make me, me." Piglet
9. "Sometimes the smallest things take up the most room in your heart." Pooh
10. "I think we dream so we don't have to be apart for so long. If we're in each other's dreams, we can be together all the time." Pooh