Winnie-the-Pooh may be a Bear of Very Little Brain, but we love him here at LoveReading4Kids...and we are sure you do too?
Today we celebrate this special little Bear and his forest friends on 18th January, National Winnie-the-Pooh Day, the day of A.A. Milne's Birthday.
We are marking the occasion with plenty of honey, and a cheeky game of Poohsticks...and maybe a little party just like Christopher Robin organised for Pooh after he saved Piglet from the flood. And yes, of course, we'll have some of those little cake things with pink sugar icing!
A.A. Milne (1882-1956) never intended to be a children's writer, he saw Pooh as a pleasant sideline to his main career as a playwright and regular scribe for the satirical literary magazine, Punch.
Observations of his son Christopher Robin led Milne to create the characters we know and love and Milne's first book When We Were Very Young, a collection of poems, was first published in 1924, followed by Winnie-the-Pooh in 1926. A.A. Milne's lovable children's books follow the adventures of Christopher Robin and his friends, including Winnie-the-Pooh, Piglet, Tigger and Eeyore.
The tales were based on a black bear at London Zoo during World War I named Winnie, who his son Christopher Robin would often go and visit.
In Winnie-the-Pooh we meet Pooh properly. Once upon a time, a very long time ago now, about last Friday, Winnie-the-Pooh lived in a forest all by himself under the name of Sanders. With his friends Piglet, Eeyore and, of course, Christopher Robin, he's never far from an adventure. In this story Pooh gets into a tight place, nearly catches a Woozle and heads off on an 'expotition' to the North Pole with the other animals.
A second collection of poems, Now We Are Six, appeared in 1927 and The House At Pooh Corner was published in 1928. You can now get beautiful classic editions of these books thanks to Farshore.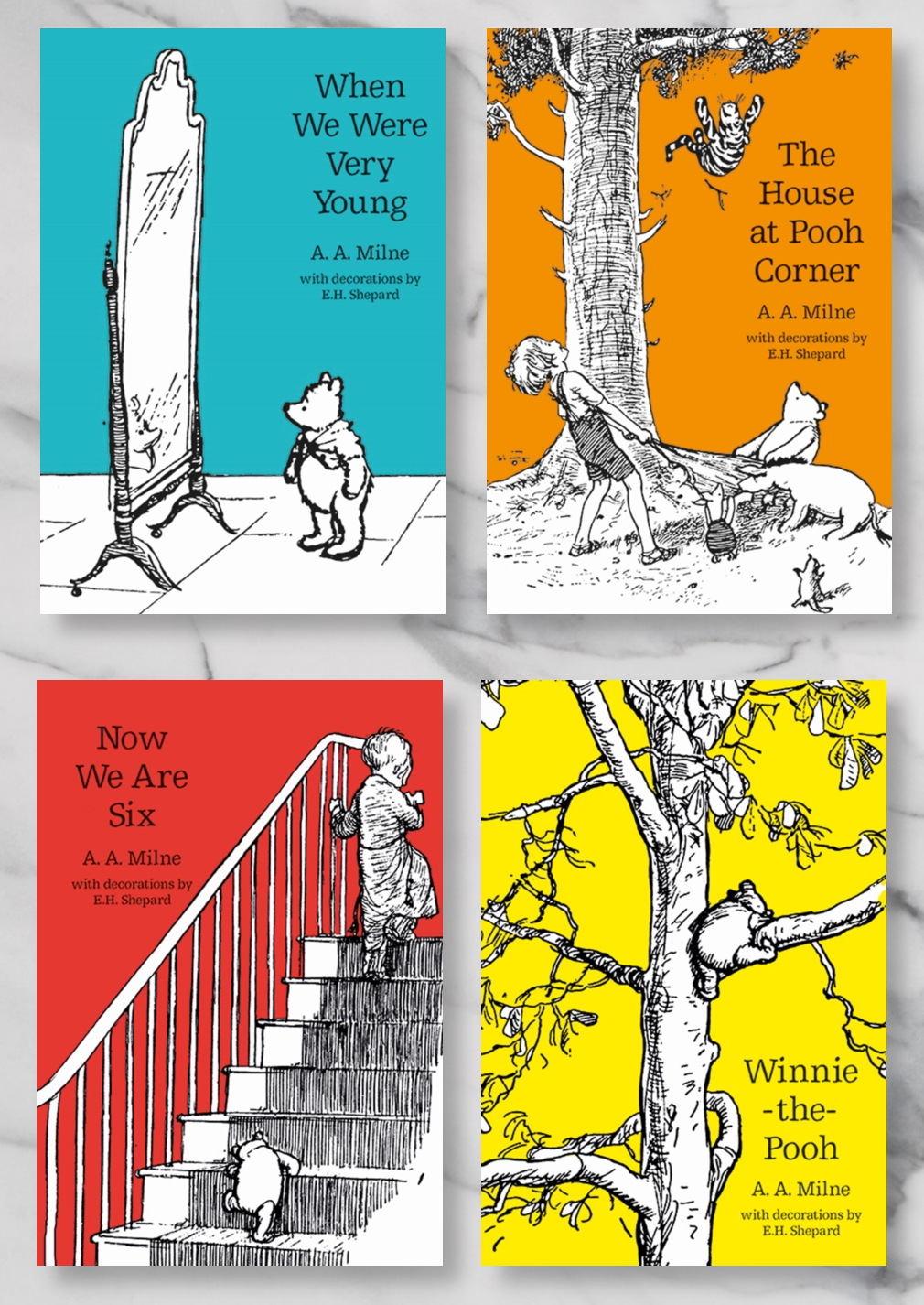 Now We Are Six is a heart-warming and funny introduction to children's poetry, offering the same sense of humour, imagination and whimsy that we've come to expect from these favourite of books. We see childhood through the eyes of six-year-old Christopher Robin: "But now I am Six, I'm as clever as clever. So I think I'll be six now for ever and ever!"
In the second classic children's story collection The House at Pooh Corner, Pooh meets the irrepressible Tigger for the first time, learns to play Poohsticks and sets a trap for a Heffalump.
All four books have been reprinted countless times over the last century, with Winnie-the-Pooh so endearing portrayed by E.H Shepard. Pooh and his friends in the Hundred Acre Wood are very famous and loved by generations of children, and adults alike.
To further celebrate Pooh and his friends, here we have curated a collection of books all about Pooh, right across the age ranges, and right across formats so you have the perfect book for every situation.
This includes Once There Was a Bear that was created in honour of the 95th anniversary of Winnie-the-Pooh, by highly talented author Jane Riordan. It's a wonderful collection of stories, written in the style of A.A. Milne, that take us back to when it all began, when Winnie-the-Pooh was first purchased for baby Christopher Robin.
Enjoy!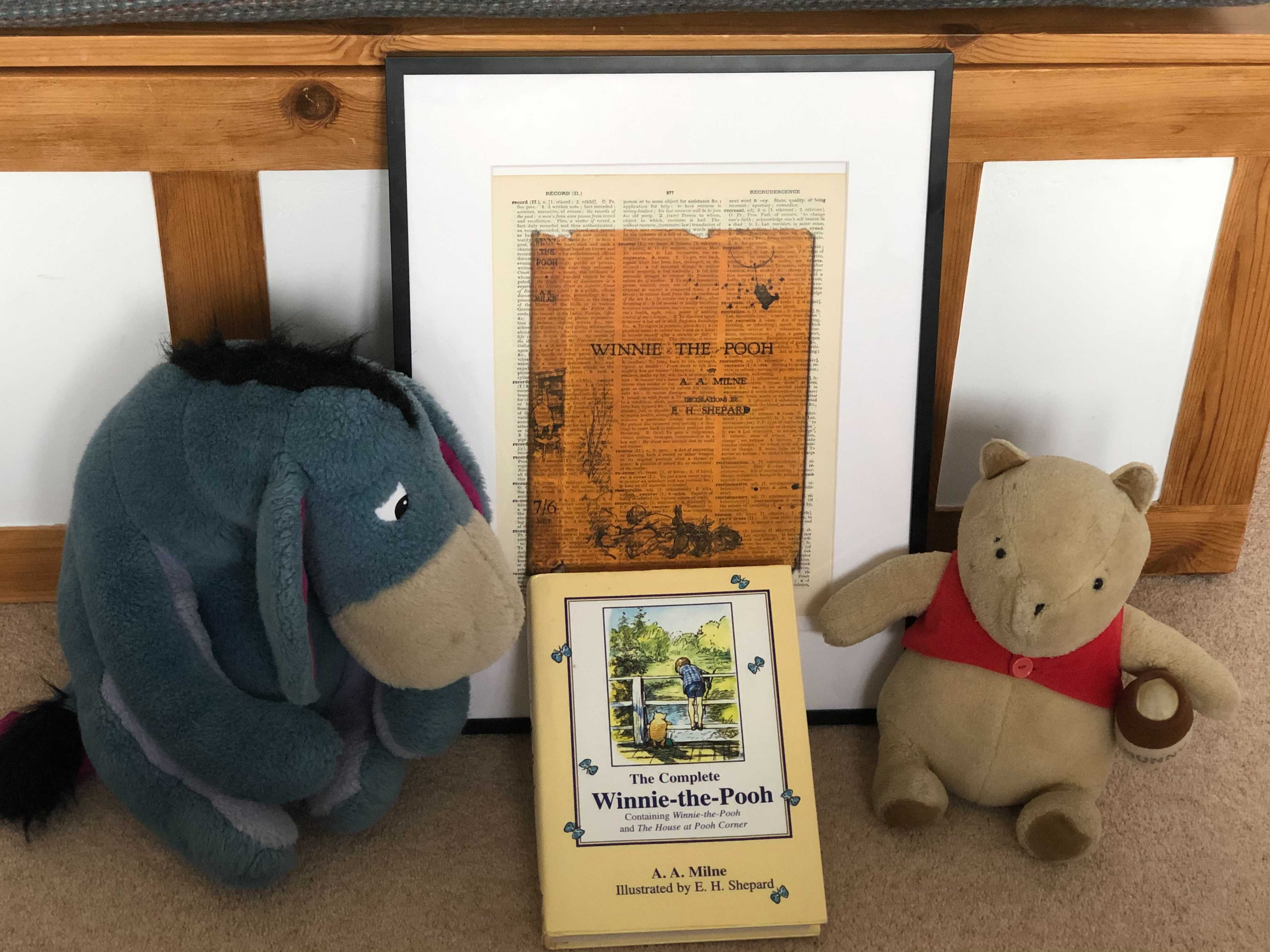 Header Image Credit: Alamy