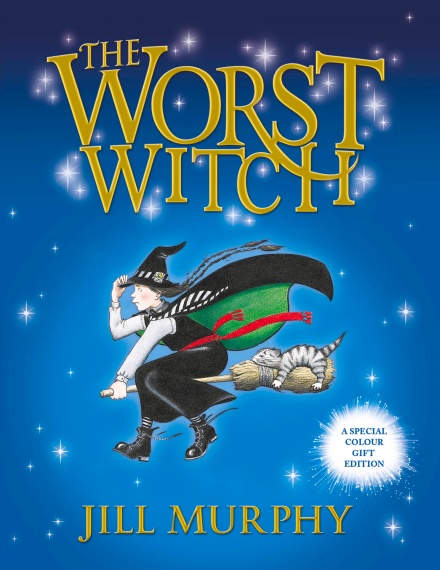 The Worst Witch stories have been spellbinding children since 1974. The books are ideal for newly confident readers, with glorious pen and ink artwork, the chapters are short and the action and laughs never stop.
Written and illustrated by the beloved Jill Murphy, who sadly died in August 2021, The Worst Witch books have been published in numerous languages and have sold in the millions.
A precursor to a succession of witch and wizarding stories, Miss Cackle's Academy was the original school for witches. Mildred Hubble, always in trouble, often chewing on her plaits, "things just seemed to happen whenever she was around. You could rely on Mildred to have her hat on back-to-front or her bootlaces trailing along the floor." Mildred would inevitably crash her broomstick, she cast disastrous spells, had a truly hopeless cat (the only Tabby in the school, all the girls had regulation black ones of course) and she really was the Worst Witch. Mildred, and her best friends, Maud and Enid have the most wonderful and hilarous adventures, and the stories are as much about friendship and fun as they are about magic.
Never out of print, the series numbers eight books, but what to read when the series has been exhausted?
We have gathered together a collection of books we think are perfect for children who love The Worst Witch series and some suggestions for children who are ready for a more challenging read but who love the style, sentiment and characters of these wonderful, witchy tales. Scroll down for fantasy books about boarding school fun, magical mayhem and mischievous misadventure.
You can read our LoveReading4Kids obituary to Jill Murphy here.