TikTok continues to take the book industry by storm, BookTok has sent old books back to the top of bestseller lists and helped launch the careers of new authors. Videos with the BookTok hashtag have achieved 39 billion views, yes 39 billion! And counting...
BookTok is seeing more young people embrace reading than ever before, translating into shops "full of teenagers and young adults" in a trend not seen since the heyday of JK Rowling and Harry Potter, according to Waterstones MD James Daunt.
Speaking at The New Future conference on 28th January, Daunt said the "thrilling" growth of BookTok had been encouraging more young people to buy from physical bookshops.
And long may this continue. Heck, LoveReading has also now launched our own TikTok channel - check us out at @wearelovereading here
One of the absolute success stories of BookTok has been Adam Silvera's beautiful book They Both Die At The End.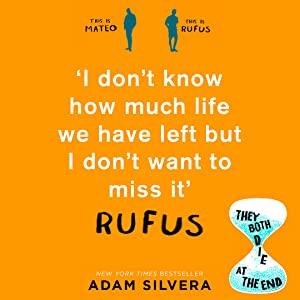 Author Adam Silvera released this young adult science fiction novel in 2017. It found success and landed a few weeks on the New York Times bestseller list.
But years later in August 2020, Silvera said his publisher noticed a significant sales bump, the start of a trend that would send the book to the top of the New York Times' young adult paperback monthly bestseller list and they initally had no idea where the sales spike was coming from.
"I kept commenting to my readers, 'Hey, don't know what's happening, but there's been a surge in sales lately, so grateful that everybody's finding the story years later,'" Silvera said. "And then that's when a reader was like, 'I'm seeing it on BookTok.' And I had no idea what they were talking about."
BookTok is a community of users on TikTok who post videos reviewing and recommending books, which has boomed in popularity over the past year or so. TikTok videos containing the hashtag #TheyBothDieAtTheEnd have amassed more than 74 million views to date!
Many retailers like Barnes & Noble have taken advantage of BookTok's popularity to market titles popular on the app to customers by creating specialized shelves featuring books that have gone viral - like TikTok made me buy it!
Don't get me wrong we adored They Both Die At The End. It's a beautiful book where teenagers Rufus and Mateo meet on their last day on earth. Via an app called the Last Friend they select each other and embark upon one final adventure together.
They're very different, in very different places and looking to make a friend for very different reasons but they connect and they have one day to cram it all in.
Adam Silvera so brilliantly captures the highs, the lows, the trials and tribulations of young people, young love and friendships in this story of interconnectedness.
It's absolutely brilliant and you won't be able to put it down as you journey with them to find out what happens as they try to make their final day count.
If you haven't read it - do!
And if you're looking for other wonderful stories about life, love and loss, we have created a collection here that fit the bill perfectly!
All of these are young adult books but with themes that resonate no matter what your age. We loved every one of these.