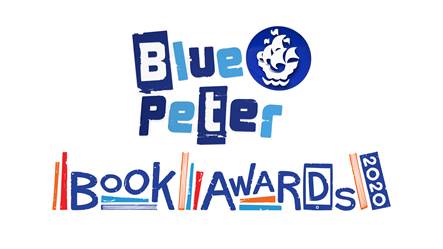 Blue Peter Editor Ellen Evans : 'The Blue Peter Book Awards are very special. For the last 20 years, they have celebrated the very best new children's books from British authors and illustrators. The 2020 shortlist features outstanding books and I enjoyed reading them all. The story books make you feel empathy, feel empowered and fire your imagination. All the books celebrate the achievements of amazing kids and will inspire young people to think about who they might want to be in life, these are ideas that have been at the heart of Blue Peter for the last 60 years.'
The Blue Peter Book Awards 2020

The shortlisted titles for the Best Story are;
Owen & the Soldier by Lisa Thompson
Vote for Effie by Laura Wood
Wildspark by Vashti Hardy


And the shortlisted titles for Best Book with Facts;
Fanatical About Frogs by Owen Davey
How to be an Astronaut and Other Space Jobs by Dr Shelia Kanani & Sol Linero
Rise Up: Ordinary Kids with Extraordinary Stories by Amanda Li


The shortlisted titles were chosen by the judges, which this year are:
Ellen Evans - Editor, Blue Peter (non-voting chair)
Meryl Fernandes - TV presenter and Actress
Joseph Coelho - Award-winning Poet, Performer and Author
Jean Menzies - Ancient Historian, Podcaster and Video Maker
The books will be judged by more than 400 young Blue Peter viewers drawn from 12 schools across the UK, who decide the winners of the Blue Peter Book of the Year 2020 in each of the two categories: Best Story and Best Book with Facts.
The Blue Peter Awards are managed by BookTrust, the UK's largest children's reading charity. Diana Gerald, BookTrust CEO, said: 'Once again, we are delighted to be involved in the Blue Peter Book Awards. These fantastic books are helping to inspire and encourage children everywhere to love reading and discover more about science, space and how to truly be yourself.'.
The winning books will be announced on World Book Day during Blue Peter on Thursday 5 March 2020, with the winning authors and illustrators also appearing on the special awards episode of the show.