LoveReading View on Guess How Much I Love You
Snuggle up with this brand new Guess How Much I Love You board book and soft toy set.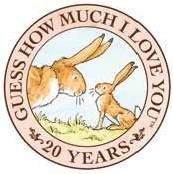 Best-selling and glorious Guess How Much I love you has delighted children – and adults - for a quarter of a century. Little Nutbrown Hare and Big Nutbrown Hare want to tell each other just how much they love each other. But how do you measure love? Luckily, the two Hare's know just how much they mean to each other. And Anita Jeram's illustrations convey that brilliantly. Julia Eccleshare
*** Celebrate twenty years of sharing love to the moon and back with this special anniversary paperback edition of one of the world's bestselling picture books and there is a fantastic Storytime Event Kit full of ideas for your own Little Nutbrown Hare party with games, suggested activities and a lovely party invite - download it here!
Guess How Much I Love You Synopsis
A delightful book and soft toy gift set from the award-winning creators of Guess How Much I Love You - perfect to give to the one you love on any occasion. I love you right up to the moon - and back.
Guess How Much I Love You is the story of Big Nutbrown Hare and Little Nutbrown Hare, and the adorable game they play to express their love for each other. But the hares soon discover that love is not an easy thing to measure! A new generation of little ones can now enjoy this cherished classic complete with an exquisite cuddly hare.
On the enduring popularity of his picture book, Sam McBratney said "The choreography of the words is echoed in the drawings, they complement each other so well. There was a good deal of thought put into the design of the book, too," he says. "When you turn that first page and Big Nut and Little Nut are looking out at you, then they take off on their journey. It's a little masterpiece in that way."