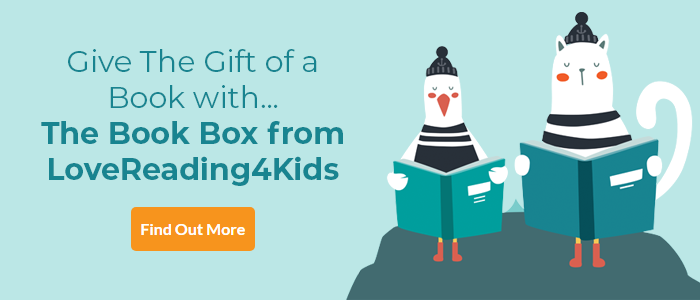 The Astounding Broccoli Boy Review
Shortlisted for the Blue Peter Book Award 2016 Best Story
Andrea Reeces's Pick of the Year 2015 This is Frank Cottrell Boyce's first standalone novel since Cosmic in 2008 and it's been well worth the wait. The smallest and weakest boy in his class, Rory Rooney makes an unlikely superhero. But all that seems set to change when he suddenly and inexplicably turns green, surely the markings of a superhero. Stuck in a hospital isolation ward with two other remarkably green children – including his nemesis, school bully Grim Kommissky – Rory discover his superpowers and becomes Astounding. The adventure that follows is by turns hilarious and heart-warming, further proof if it were needed that Cottrell Boyce is one of the wittiest, warmest and most inventive children's authors of today.
The Astounding Broccoli Boy Synopsis
Rory Rooney likes to be prepared for all eventualities. His favourite book is Don't Be Scared, Be Prepared, and he has memorized every page of it. He could even survive a hippo attack. He knows that just because something is unlikely doesn't mean it won't ever happen ...But Rory isn't prepared when he suddenly and inexplicably turns green. Stuck in an isolation ward in a hospital far from home with two other remarkably green children, Rory's as confused by his new condition as the medics seem to be. But what if it's not in their genes, or a virus, or something they ate? What if turning green actually means you've turned into a superhero? Rory can't wait to make it past hospital security and discover exactly what his superpower might be ...
The Astounding Broccoli Boy Reader Reviews
Kids love to read and so in addition to our Lovereading expert opinion some of our Lovereading4kids Reader Review Panel were also lucky enough to read and review this title. You can read their full reviews by clicking here.
Evie Scott-Sentence, age 11 - 'I read it in one go without stopping! It is so well planned and with loads of imagination. It's a wowzer book! 11 out of 10!'
Joseph Pancha Ekinci, age 8 - 'The Astounding Broccoli Boy is a funny book full of mystery, science and adventure!...The book has no illustrations but the words told me a lot.'
Liam Wilson, age 9 - 'Unlike broccoli, this book is good!...This is a hilarious book for all ages. 9.5 stars out of 10.'
Logan McGhee, age 9 - 'An outstanding, mind-blowing read full of new scenarios and adventure...There wasn't a single thing wrong with the book for me!'
Tomasz Hawryszczuk, age 9 - 'Have you ever heard of Broccoliitus? Do you like comic strip superheroes? This could be THE book for you! Rory turns green unexplainably. A really crazy funny book to read.'
Hannah, age 14 - 'When Rory Rooney turns green his whole life is turned upside down. Will he ever get back to a normal colour?'
Bethan Scarr, age 13 - 'All together a great read with lots of laughs, if you have enjoyed any other of Frank's book you will love this one.'
Joshua Zinkin, age 9 - 'This book is definitely in my top 20 books. I would give this book 10/10.'
Sidney Greenslade, age 11 - 'An unusual, intriguing and funny story of how one boy copes after he suddenly turns green! Very enjoyable.'
Christie Cribbens-Edwards, age 10 - 'This is a slightly curious and funny book, which I think is amazing...It is so well-written it makes you feel as if you are there with the characters, following their adventures.'
Sam Harper, age 11 - 'A brilliantly funny book. Rory and Grim made a fantastic team and their exploits made me laugh out loud. I loved it!'
Rose Hopkins, age 9 - 'I loved this book. I was glued to the pages with all the sudden twists and turns in the story. It was full of emotions and very humourously written.'
Daisy Theobald, age 12 - 'This book was one of the funniest books I have ever read.'
Eden Bartin, age 7 - 'FANTASTIC! I give this book 10/10'
Niall Baker, age 10 - 'I loved reading this book, every mistake leads to another part of the story. Intriguing chapter titles draw you into the plot.'
Bethan Scarr, age 14 - 'There were many laugh out loud moments and several times where I held my breath hoping everything was going to be alright.'
Alexander Bisland, age 9 - 'This book is about a boy who turns green... like this book because it was exciting and I wanted to read on.'
Harry, age 9 - 'I liked the idea of someone suddenly turning green and how they would live with this. Would definitely appeal to people who like superheroes or comic books!'
Jordon Poet, age 11 - 'I think this book cover is good because it tells you about someone who turns green and it's saying it's not easy being green!'
Mia Goodman, age 8 - 'I really enjoyed Broccoli Boy and I found it very funny. It was definitely a lot better than eating broccoli!'
The Astounding Broccoli Boy Press Reviews
This is classic Cottrell Boyce: brilliantly funny, believable and very human. The Bookseller
Frank Cottrell Boyce has cracked it again with a fast-paced adventure about a boy who turns green ... a rallying cry for the power of difference. -- Lorna Bradbury Telegraph.co.uk
An action-filled romp from an all-star author. Metro
A funny, silly and underlyingly serious story about self-belief, slapstick adventures, a very endearing penguin, the miraculousness of London and the value of being nice to people. It also carries the message that even if your are small (or any other size) and green (or any other colour), you should never be pushed around. -- Nicolette Jones Sunday Times
Family and friends, the power of the imagination, tackling bullies and learning that real heroes come in every shape and size are just some of the themes covered in this delightful, laugh-out-loud reading odyssey which has been brought to glorious life by Steven Lenton's quirky illustrations and is guaranteed to enchant both children and parents. Lancashire Evening Post
If you loved this, you might like these...