LoveReading View on We're Going on a Bear Hunt
A signed, limited edition of the classic chant-aloud by Michael Rosen and Helen Oxenbury. The perfect gift for brave hunters and bear-lovers everywhere!
Fantastic, cumulative adventure as a family cheerfully sets out on a brave hunt to find the bear - and this new edition has interactive sound! It could be frightening but they're not scared. They're full of confidence in what they are doing. Caves, mud, rivers, forest … whatever obstacles the family encounters, they resolutely overcome them happily repeating the chorus:"We can't go over it", "We can't go under it", "Oh no! We've got to go through it".But when they find the bear its' a lot more scary than they had thought and they hurtle home repeating all the noises as they go. ~ Julia Eccleshare
*** The animation created by Walker Productions and Lupus Films aired at Christmas 2016 on Channel 4 was viewed by over 6 million people, and is now available on DVD from Universal.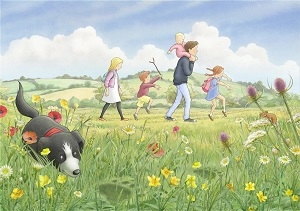 Michael Rosen says: "I am absolutely delighted that Channel 4 has commissioned this animation. Lupus have a great record in this field and I am very excited to be part of the project. Helen Oxenbury's wonderful art work provides a powerful family saga, full of imagined or real trials and these pictures will give a basis for a moving Christmas drama."
Helen Oxenbury says: "I'm so looking forward to seeing the book brought to life in this way. It's a wonderful opportunity to bring We're Going on a Bear Hunt to even more children and I'm thrilled to be part of it."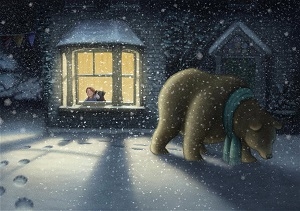 Jay Hunt, Channel 4 Chief Creative Officer, says: "Going on a Bear Hunt is a magical book that will be brought alive for a whole new audience by Lupus Films. I can't wait."
We're Going on a Bear Hunt Synopsis
We're going on a bear hunt. We're going to catch a big one. Will you come too?
For over a quarter of a century, readers have been swishy-swashying and splash-sploshing through this award-winning favourite. Follow and join in the family's excitement as they wade through the grass, splash through the river and squelch through the mud in search of a bear. What a surprise awaits them in the cave on the other side of the dark forest!
You might also like We're Going on a Bear Hunt Colouring Book and We're Going on a Bear Hunt Sticker Activitiy Book!
There is a new website celebrating 25 years Bear Hunting - visit www.jointhebearhunt.com for everything a bear hunter could need including activities, videos, competitions and tour dates.