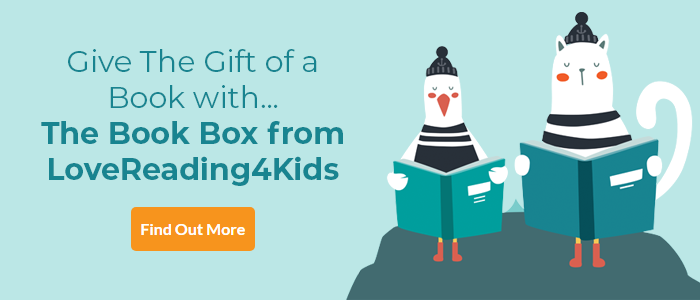 There is a Tribe of Kids Review
Winner of the CILIP Kate Greenaway Medal 2017 | Award-winning Lane Smith's stunning illustrations create a delight of a story which imaginatively and vaguely hints at a pre-historic time and brings it vividly to life. A single child dressed in a leafy robe plays happily in a variety of dreamy settings which begin as quiet and lonely spaces but which become increasingly busy. The child's playmates include a colony of penguins, a smack of jellyfish, a pod of whales, an unkindness of ravens, a parade of elephants, a troop of monkey, a band of rhinos and a crash of gorillas. And then, he finds a tribe of children who become his real playfellows. The minimal text makes brilliant use of the special descriptive words for each animal group. ~ Julia Eccleshare
On winning the CILIP Kate Greenaway medal Lane Smith commented: "Years ago, when graduating from art school, I was told that my work was too stylised-looking for the kids' book market in the States and I would probably have to move to London where they took a more enlightened view of quirky artworks. I told my instructor that he was wrong, and that there were many wonderful books being published in the States, and showed him my books by Wildsmith, Blake, Browne, Steadman, Cousins, Oxenbury, Foreman and Burningham. And my instructor politely informed me that those were all British artists. To be acknowledged from the land of many of my favourite illustrators is an enormous honour."
There is a Tribe of Kids Synopsis
Did you ever want to waddle with a colony of penguins? Wriggle with an army of caterpillars? Or march with a troop of monkeys? Legendary illustrator Lane Smith takes us on a colourful adventure through the natural world, following a child as he weaves through the jungle, dives under the ocean and soars into the sky.
Along the way he makes friends and causes mischief with a dazzling array of creatures both large and small - but can he find his own kind? Full of warmth and humour, There Is a Tribe of Kids is a sumptuously detailed portrayal of wild childhood to be pored over for hours on end.
A witty and playful exploration of curiosity, discovery and what it means to belong, ideal for sharing with children of all ages. Sprinkled with beautiful gold flecks and specially designed peek-through flaps at the front and back.
There is a Tribe of Kids Reader Reviews
Kids love to read and share books from an early age and so in addition to our Lovereading expert opinion some of our Lovereading4kids Reader Review Panel were also lucky enough to read and review this title. You can read their full reviews by clicking here.
Ethan Watkin, age 8 and Elissa Watkin, age 3 - 'Really pretty pictures. My little sister who is 3 giggled at the funny story and enjoyed choosing which kid she liked best.'

Reba and Amatullah Khatun, age 6 - 'The funny illustrations made us giggle and added to the beauty of this sweet tale. We enjoyed the ending very much.'

Priya Dhoot, age nearly 3 and her Grandmother - 'The book is visually very appealing and asks you to look inside...My granddaughter wanted to read it again and again.'
Emma Radford with Sam, age 5 and Jack, age 4 - 'The illustrations are beautiful and provide lots of talking points.'
There is a Tribe of Kids Press Reviews
Witty and humorous, never irreverent, this is a celebration of sharing and belonging, as a multiracial family hugs their adventurer on the closing page ... Absolutely radiant. Kirkus
One of the book's delights is its shifting moods and colors, which feel like the movements of an orchestral work. The textures ... seem organically formed, as if waves and time had worn them down, yet the spreads are vivid and clean. Publishers Weekly
Exudes a Chaplinesque charm, skillfully blending slapstick and melancholy The New York Times
This is a profoundly welcoming book - fresh and full of adventure and sweetness - about how each of us has a story of our own to tell. The Washington Post
Loneliness, longing and quirky collective nouns combine to endearing effect Wall Street Journal A gloriously imaginative, beautiful book Angels & Urchins
A beautifully illustrated and poetic journey through the natural world, to discover groups of animals in oceans, rain forests and jungles. Mesmeric. Huffington Post
A beautiful book Irish Independent
This engaging and attractive exploration of collective nouns weaves a lovely story about a boy who wants to belong. It follows his journey through a truly beautiful series of illustrations, reminiscent of Where the Wild Things Are. BookTrust
Dazzling New Statesman
A visual treat exploring the curiosity and imagination of children The Bookseller
A kaleidoscopic look at nature imbued with a playful love of language that young readers can't fail to embrace… Smith knows how to tell a story kids will love. Booklist
If you loved this, you might like these...