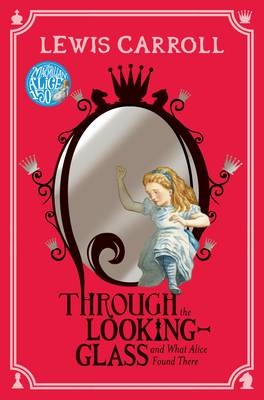 Here's a trailer of the new movie, Alice Through the Looking Glass starring among others, Johnny Depp, Anne Hathaway, Helena Bonham Carter, Michael Sheen, Alan Rickman, Sacha Baron Cohen, Stephen Fry, Barbara Windsor and Matt Lucas.
The story of Alice was first told by Charles Lutwidge Dodgson, a young don at Christ Church in Oxford in 1862, to entertain a group of children on a boat trip. One of these children was Alice Liddell, daughter of the Dean of Christ Church who, entranced by the tale, asked for it to be written down. Charles Dodgson duly did and gave it to Alice Liddell as a Christmas present, complete with his own illustrations.
It was originally entitled Alice's Adventures Under Ground and took him two and a half years to complete. Charles Dodgson had met the publisher, Alexander Macmillan some years previously. Macmillan loved Alice and published the story, with Dodgson choosing to write under the pseudonym, Lewis Carroll.
'You would have to be half mad to dream me up.'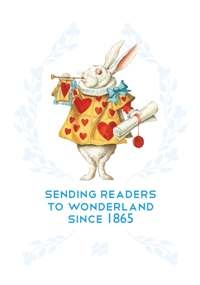 'Macmillan was instrumental in turning Alice into a literary and cultural phenomenon and it is through the artists we commissioned that Alice's iconic look – her blue dress, blonde hair and "Alice band"– was established in the public mind. We are delighted to be able to put the heart back into the "The Macmillan Alice" for 2015 and beyond.' Anthony Forbes Watson, Managing Director, Pan Macmillan
Lewis Carroll went on to write a sequel, Alice Through the Looking Glass, which contains the poems 'The Walrus and The Carpenter' and the nonsense poem 'Jabberwocky', which are now as famous as the Alice stories themselves.
'If I had a world of my own, everything would be nonsense.'
The story of Alice was originally brought to life by Sir John Tenniel, first as black-and-white plates and then with coloured versions of these original drawings.
When his eyesight began to fail, Tenniel gave approval to Macmillan in 1911 to ask Harry G. Theaker to complete sixteen new colour plates, and it is Theaker's colourings that established the iconic image of Alice that we know today, with her bright blonde hair, her blue dress and her Alice band (which first appeared in the illustrations in Through the Looking-Glass and What Alice Found There).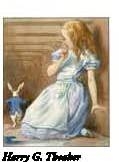 Macmillan owns the copyright in many of these colour illustrations and it is a Tenniel/Theaker image that is presented on the new 'Macmillan Alice 150 Years' anniversary logo.
Chris Riddell, Children's Laureate : "Before I knew a thing about him, John Tenniel was a hero of mine, or rather, I should say, his white rabbit was. As a child I copied Tenniel's illustrations from Alice's Adventures in Wonderland obsessively, particularly his drawing of the White Rabbit in waistcoat and frock coat, umbrella tucked under one arm and a pocket watch in paw, a look of suppressed panic in his eye. I loved analysing the shading, intricate lines of cross-hatching, the folds of the sleeve, the tilt of the head, that wide-eyed rabbit stare. Tenniel was one of the reasons I became an illustrator."
The 150th Anniversary of Alice's Adventures in Wonderland in 2015 saw the publication of numerous editions and abridged versions of Alice titles - you can find our favourite titles here in this special section.