Axel Scheffler, Illustrator Extraordinaire, author and now our Guest Editor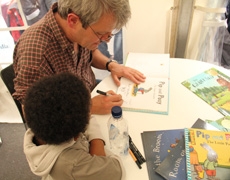 Axel was born in Hamburg, Germany. At school he was good at art, but didn't think of a career in illustration until he won a cuddly purple cow in a drawing competition.
So began a brilliant career bringing to life in pictures the stories created by authors. Now he has become an author himself with the Pip and Posy series which are perfect for pre-schoolers and published by Nosy Crow.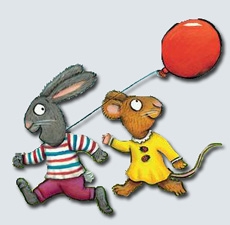 What critics have been saying about Pip and Posy:

'Simultaneously cosy and reassuring...Perfect for one to three year olds'

'In these satisfyingly robust, colourful books Axel Scheffler, of Gruffalo fame, has created the wholly desirable pre-school world of Pip and Posy. One hopes there are more to come!'
We asked Axel to write about the books that have influenced him, especially as a child and you can read that below - we hope you enjoy discovering more about him and his beautiful books.
____________________________________
Axel Scheffler's.... reminicences
I don't recall having many picture books when I was a child. Maybe there weren't many around. I had, and still have, Hirsch Heinrich - a book that my dad brought from a trip to East Germany. There were some free comics from a shoe shop and a coffee chain - I had those. I had quiet a few of 'Petzi'-books - a Danish bear with red dungarees with white dots -they were like Comic Books ,but without speech bubbles..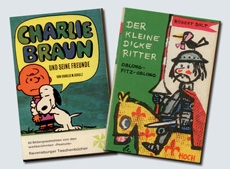 I later had some Mickey Mouse and Donald Duck Comics . Followed later by Asterix. I then discovered "the Peanuts" By Charles M. Schulz . I had a Snoopy poster up in my room as a teenager. My dad had a big Time life book "The World We Live In"- I loved looking at the dinosaurs. Like many children of my generation in Germany, I loved "Jim Knopf und Lukas der Lokomotivführer" by Michael Ende, but I must admit before I had the books I watched the puppet-programme on TV by the 'Augsburger Puppenkiste". I also knew the Grimm fairy tales - my mother must have read them to me.
I was good library user but I don't have any strong recollections of particular books. In my teen I discovered the German humorist Loriot (yes they do exist) and later FKWaechter.I was always interested in art and loved to go to museums with my dad (he never had enough time). Needless to say I loved drawing as well .In my late teen I discovered the art of cartoons. Cartoonists like Chaval ,Bosc,Sempé , Edward Gorey and Tomi Ungerer,who with his children's books was probably the single greatest influence on my own work. Later I found out about William Steig and Czech illustrators like Adolf Born and Jiri Salamoun. In the Seventies I saw big exhibitions of Tomi Ungerer,J.J. Sempé and the great Saul Steinberg - it was always really exciting to see the originals.