A message from Julia Eccleshare:

'Each of the carefully selected titles has earned its place on each publisher's list because it has inspired previous generations to become passionate readers. The stories have already been passed down from one generation to another and been the starting point for many other stories. All these classics selected by Lovereading4kids are the perfect way of reading the old and the new - and loving both. More titles will be added over time so you can come back again and again and indulge yourself and your children in whichever format suits you best at the time.'
The Originals:

The Originals are the pioneers of fiction for young adults. From political awakening, war and unrequited love to addiction, teenage pregnancy and nuclear holocaust, The Originals confront big issues and articulate difficult truths.
Collins Modern Classics: A selection of magical and extraordinary stories, aimed at 7-11 year olds, with favourites such as Mary Poppins and The Sword in the Stone.
Macmillan Classics: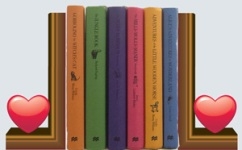 The Macmillan Classics are beautifully produced hardback editions of some of the best-loved stories from the past. Each has a introduction by another author who, in their turn, have been influenced by the great writers of these books.
Adventures in Imagination with Puffin Classics:


A Puffin Book will stay with you forever. Maybe you'll read it again and again, or perhaps years from now you'll suddenly remember the moment it made you laugh or cry or simply see things differently. Adventurers big and small, rebels out to change their world, even a mouse with a dream and a spider who can spell - these are the characters who make stories that last a lifetime.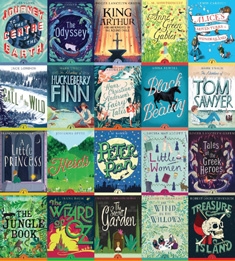 Frances Lincoln The Classics: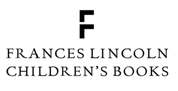 The Frances Lincoln Classic range, all in hardback format, are each exquisitely illustrated by notable artists including Jane Ray and Emma Chichester Clark.
Faber Classics:
Faber and Faber are one of the last great independent publishing houses in London. This is a new collection of Faber Classics, beautifully presented and illustrated by some of our best loved, award winning illustrators. Perfect to complete any child's bookshelf.
Usborne Illustrated Originals: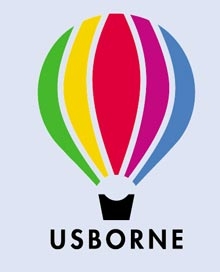 This series of classic books from Usborne Publishing are all fully illustrated padded hardbacks, with a ribbon marker, perfect gifts for any special occasion. Usborne is the biggest and most successful independent children's book publisher in the UK.