Crime / Mystery
Find our latest selection of crime and mystery books, from serious whodunnits to failed comic detectives.
This Month's Featured Crime / Mystery Books

9+ readers
11+ readers
Winner of the Newbery Medal | Shortlisted for the Waterstones Children's Book Prize | This is a brilliantly fresh and original story with a puzzle at its heart. When Miranda's best friend Sal is punched in the stomach by another boy for no apparent reason everything begins to unravel. Where the threads lead and how Miranda follows them is beautifully and simply told despite the fact that the story they tell is complex and thought-provoking. This is a great book.

9+ readers
11+ readers
Detective siblings Nik and Norva are back with a blast in this second novel set around The Tri high-rise block. If the highly-acclaimed High-Rise Mystery was a devastatingly good debut (it was), this is a full-on firecracker of a follow-up. A classic kids detective series slickly rebooted for the twentieth-first-century – think Harriet the Spy with a smartphone and added spark. Rising global music star Trojkat is back in her old 'hood to make a music video when she dies in The Tri while shooting a scene. Most people – including the police - assume Trojkat's death is a tragic accident, but sleuth-minded Nik and Norva suspect otherwise. With the help of their mate George, the determined duo set about piecing together a hotchpotch of clues to solve a case that has personal resonance. There are plenty of poignant moments along the way, such as when Nik expresses how it feels to lose a person you love: "It made you feel empty. Fragile. Like you could shatter into a million pieces if someone gently blew in your direction". Overall, this is a super-charged detective story that fizzes with a whole lot of quick-witted, ping-ponging exchanges between Nik and Norva, with a sensational revelatory showdown to round things off.

9+ readers
11+ readers
Noah loves his new house, he has his own room and he has even made friends at his new school. Noah wants to stay! But that has never happened yet-the supernatural, centuries old curse still follows the Bradley family and every home they have ever lived in is destroyed. He has a duffel bag with his most precious possessions that is never unpacked – just in case. This is an exciting premise that will immediately grip young readers and Noah is a completely believable, modern character with the same issues about fitting in and finding friends, that readers will all recognise and this makes the danger he faces all the more thrilling. When the inevitable disaster strikes, Noah blames himself for ignoring the warning signs and with his father away and his mother in hospital it is up to him to continue his mother's quest to find the other Bradley's and the magical objects which together could break the curse. One of the delights of this fast-paced adventure is the characterisation of Noah, his younger brother Billy and of Neena- the neighbour who is a social outcast at school but a brave, resourceful and true friend. Noah's growing maturity allows him to see her true value as well as recognise his own failings. This highly readable tale really does have the perfect blend of social realism, thrilling adventure and a supernatural mystery to solve.
Other Crime / Mystery Books
Filter:
Baby and Toddler
3+ readers
5+ readers
7+ readers
9+ readers
11+ readers
13+ readers
YA readers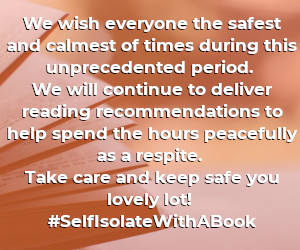 NEW INDIE AND SELF PUBLISHED BOOK REVIEW AND PROMOTION SERVICE LAUNCHED!
Read More
×