THE BEST IN
SUPER READABLE
DYSLEXIA FRIENDLY BOOKS
Helping parents and their children crack the reading code with great stories that are short and with absolutely no boring bits! ___________________________________
"Thank you so much for providing such a fantastic website - it has been a great help and a wonderful inspiration."
Emily Fisher, Parent ___________________________________
About the Little Gems series: The Little Gems are in a gorgeous chunky format, with high-spec production including coloured endpapers and jacketed flaps with activities. Additional features include high quality cream paper, Barrington Stoke font and illustrations on every page. They are perfect for children aged 5-8's with a reading age of 6+, and are great next step for all newly independent readers. These quality stories are also well suited to children aged 7-10, reading below this level, and to dyslexic or reluctant readers.
**See our special Little Gems category for a full range of the titles available.

Click here to download a free guide from Barrington Stoke to help you help your child to love reading.
The term dyslexia literally means 'difficulty with words'. In reality, it covers a whole spectrum of problems, not just with reading, writing and spelling, but also with comprehension, memory and organisational skills. With some 10% of people in the UK with dyslexia, here at LoveReading4Kids we feel the time has come to provide some guidance on dyslexia-friendly books for children and teenagers alongside the leading publisher Barrington Stoke of dyslexia-friendly books and the charity Dyslexia Action.
_______________________________
Dyslexic individuals function rather differently from the norm and they need alternative teaching methods and materials if they are to crack the code. It may take longer than their classmates but most of them get there in the end. These emergent readers will finally crack the code, often aged 9 or 10, but often they are not ready to tackle the longer more challenging books their contemporaries enjoy. They need much shorter books, but still by first class authors, with inspiring content, real characters and a gripping plot.
It used to be thought that boys were three times more likely to be dyslexic than girls but evidence now shows that this is not the case. Both sexes are affected. However, studies by Dyslexia Action show that three times as many boys as girls received additional teaching because of their dyslexia. One theory is that boys are more disruptive when they are trying to deal with dyslexia so they are more likely to be noticed by teachers and given the right help. Girls have been shown to be better at developing coping mechanisms so their symptoms may go unnoticed for years before they receive the proper specialist tuition.
15 years ago, Patience Thomson had a chance to be involved in founding Barrington Stoke, to produce quality books for dyslexic readers. Their unique approach would be that dyslexic children and teenagers would be asked to act as consultant editors.
Patience Thomson says, "The quality of the story was very important to Barrington Stoke but so too was the presentation. These consultant editors chose the font, (our own special one), the size of print, (point 14), the off white paper, (kinder on the eyes), and the extra spacing between letters, words and paragraphs that made the text "settle" – their description not mine. They insisted there should be no right hand justification as this meant they did not lose their place. The consultants marked up words they could not read and ones they could not understand. They had an active and positive role when the company founded and still do today and as a consequence dyslexics can not only learn to read 'real books', but to enjoy them too."
_______________________________
About Barrington Stoke:
Award-winning Barrington Stoke publish accessible, enjoyable and unpatronising short books for children who are dyslexic, struggling to read, or simply reluctant to sit down with a book. Each book is read before publication by struggling readers of the right age, to ensure the final book is both accessible and a terrific read. In 2007 the company was named IPG Children's Publisher of the Year.
Did you know:

that black text on white paper can hurt sensitive eyes, while off-white paper helps?

that careful spacing between letters and lines can help new and struggling readers?

that justified text can mean readers get lost on the page?

that many young readers, parents and carers feel more confident about opening a book if it has clear, manageable chapters to give natural 'rest' breaks?

that research has shown boys prefer books of 100 pages or under?"

Barrington Stoke books help emergent, reluctant and dyslexic readers unlock the love of reading. Our books are crammed with ingenious design and editorial tricks to ensure an accessible read. Best of all, books are brilliant stories by the best authors in the business, and so also offer a great quick read for more confident kids.
Testimonials on Barrington Stoke Dyslexia-Friendly titles:

"MY son started You Killed Me! last night. He loved it! That in and of itself is amazing. He read about 25% in one sitting. Again AMAZING. He asked that I get more for him to carry in his backpack. Again AMAZING. Thank you so much." Parent

"....my daughter Lucy who is ten and has never been able to complete a book on her own, immediately picked up Living with Vampires and read it from cover to cover without any problems, It was her New Years resolution to read a book on her own and you made it possible for her to do that. I am eternally grateful" Parent.


"Barrington Stoke's books are ideal for young people with dyslexia because they look good, like 'real' books, neither babyish nor a colour-stickered graded reader. The visual aspects have been considered with font size and type and background colour, and the illustrations are complementary rather than too intrusive and are appropriately placed in the text. These books really work." Bernadette McLean, Academic Director of the Helen Arkell Dyslexia Centre.
For further information on Barrington Stoke click here.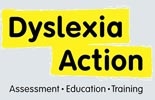 About Dyslexia Action:
Dyslexia Action is a national educational charity, which improves lives through education. Their vision is to ensure individuals with dyslexia and literacy difficulties are able to reach their potential. Dyslexia should not be a barrier to learning, employment or personal fulfilment. Dyslexia Action is the UK's leading provider of services and support for people with such difficulties, specialising in assessment, teaching and training throughout England, Scotland, Northern Ireland and Wales.
If you suspect your child might have dyslexia or would like any more information about Dyslexia Action please click here.
Dyslexia Action is a Registered Charity – Number: England & Wales 268502, Scotland SCO 39177
Dyslexia Action on LoveReading4Kids:
"The prevalence of dyslexia is significant and we think it's great that LoveReading4Kids are acknowledging this on their site."
_____________
Finally, did you know the actor Henry Winkler of Happy Days fame is also the co-creator of Hank Zipzer, the central character in a series of books who is dyslexic. The stories are based on Henry's own experiences at school even though as a child at school he had no idea he was dyslexic. That was only discovered much later as an adult.