Easter is the Christian story of Jesus' last days in Jerusalem before his death on Good Friday and his resurrection, coming back to life, on Easter Sunday.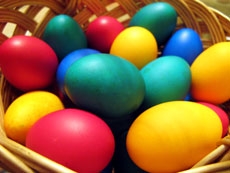 For many centuries before Jesus' birth, the Jewish people also had their own special spring festival, called Passover (Pesach). Passover commemorates the time when God rescued the people of Israel from slavery and Moses led them out of Egypt. The word Easter actually comes from the Anglo-Saxon name for the month of April, which was known as "Eostremonath" when Pagans held rituals related to the goddess Eostre on new beginnings, symbolized by the egg.
Easter always falls on the first Sunday following the full Moon after 21 March. So Easter Sunday can fall on any date from 22 March to 25 April.
Easter Sunday this year is 20 April.