CENTENARY FOR CREATOR OF BOND AND CHITTY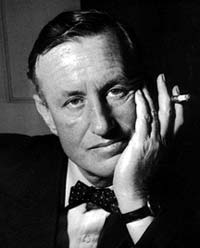 28th May 2008 is a centenary landmark for it is 100 years since the birth of Ian Fleming whose character creations, James Bond 007 and the fantastical Chitty Chitty Bang Bang have entertained generation after generation and will continue to do so for many years to come. Classics in their own right but spin-offs have ensured that almost no one of any age can be unaware of the hours of entertainment his books can provide whether a toddler or 105.
JAMES BOND
There are five novels in the Young Bond series written by author Charlie Higson. We first meet James Bond as a 13 year old at Eton in Silver Fin. He's tough and resourceful, quick to make friends but a loner at heart. Blood Fever follows and then Double or Die. Hurricane Gold, the fourth is just out in paperback whilst the fifth and final outing, By Royal Command will be released on 4th September 2008. These Young Bond titles will be enjoyed equally by boys and girls, by wannabe spies, keen readers as well as more reluctant readers, seeking non-stop action and adventure and thrills and spills on every page.

CHITTY CHITTY BANG BANG
Ian Fleming, the creator of James Bond, invented 'Chitty Chitty Bang Bang' for his young son Caspar, and it went on to become the most famous and best-loved car in fiction. This treasured story inspired a film and a musical and is celebrated in this lavish, highly collectible new edition (first published in 1964) to coincide with the Fleming centenary, complete with its original timeless artwork by John Burningham, one of Britain's most popular author/illustrators. A must-have for the nursery bookshelf so that together a parent and child can get lost in the most wonderful, but sometimes frightening magical world.
NEW BOND BOOKS FOR GROWN UPS!
To coincide with the Fleming Centenary there is a brand new Bond title Devil May Care written by Sebastian Faulks that is eagerly awaited on 28th May and For Your Eyes Only: Ian Fleming and James Bond is published to coincide with the 2008 Imperial War Museum exhibition of the same name, this is a thrilling stand-alone book that looks into the entwined worlds of James Bond and Ian Fleming. The book and exhibition will explore how Fleming's 007 emerged against the background of the Second World War and the Cold War, and how Bond's world was based on the realities (and fantasies) of Fleming's life as a wartime spy-master and peacetime bon viveur.
For lots more information on Ian Flemming why not visit http://www.ianflemingcentre.com/