The term Halloween, and its older spelling Hallowe'en, is shortened from All-hallow-even, as it is the evening before "All Hallows' Day" (also known as "All Saints' Day"). Halloween was also sometimes called All Saints' Eve.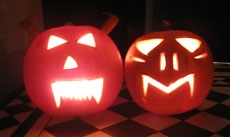 The holiday was a day of religious festivities in various northern European pagan traditions, until it was appropriated by Christian missionaries and given a Christian interpretation.
So to celebrate general spookiness and horror we have a selection of books that will hopefully fright and delight in equal measure children of all ages as well as grown-ups who have never quite grown up or don't like to think they have!