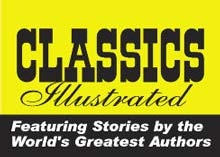 Win a set of 5 Classic Illustrated titles - click here
Classic stories in comic book form are perfect for younger children, reluctant readers and especially boys. First created in the US these terrific value graphic novels of timeless classics are now available in the UK.
Why not take a look at our selection of Classic Illustrated titles ranging from Aladdin to The Ugly Duckling in the Classics Illustrated Junior range and A Christmas Carol to The War of the Worlds in the older Classics Illustrated range.
You can also read on to find out more about this brilliant Comic Book series that will inspire and be enjoyed by a new generation of readers.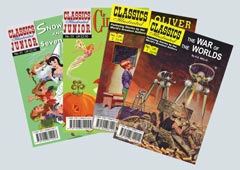 What Authors think of these Classics
I like these illustrated Children's Classics. I'm a great fan of comics and the comic strip and I think these books offer a good way for young readers to get into some of the greatest stories ever told. My three-year old was particularly keen on the Goldilocks one and has asked for it again and again!
Michael Rosen (Ex Children's Laureate)
"My son Jack didn't like English at high school so I bought him a lot of comic versions of classic books such as Jekyll And Hyde, Kidnapped and Macbeth - now he wants to go to see the Shakespeare play. It's a great way to get people to read. The problem is that there just aren't enough comics out there any more."
Ian Rankin – author
"Even before I could read, I remember pouring through my brothers' copies of Classics Illustrated, over and over, especially their excellent comic book adaptations of Frankenstein, The Invisible Man, Dr. Jekyll and Mr. Hyde, A Journey to the Centre of the Earth, and War of the Worlds."
Martin Powell – Author
Comics - a great way for new and reluctant readers to enjoy the classics
"It's exciting to now see people well respected in education advocating comics in schools. As an English teacher and huge comic fan, I've often tried to convince colleagues of the power of comics as worthy texts"
Katie Barrowman – teacher
If you're old enough to remember the Classics Illustrated comic books, you'll be glad to know that they're back. They promise to encourage readers to get into, and through, the classics."
Dodie Ownes -- School Library Journal
"Comics are the most exciting medium today for teachers who want to grab their students' attention without sacrificing depth, and for librarians who are intrigued by this art form and its possibilities for encouraging new readers."
Splat!