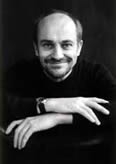 The word almost more synonymous with picture books for children over the last 20 years is almost certainly Kipper. Kipper the dog was introduced to almost every nursery 18 years ago this year from the hand of multi-award winning author and artist Mick Inkpen, so we're thrilled, together with Mick and his publisher to be a part of that celebration and to introduce a brand new generation of toddlers to the best-loved, most dog-eared dog.
Mick Inkpen is one of the top-selling picture book artists and writers in the world. The Kipper, Threadbear and Penguin Small stories have all sold millions worldwide. Kipper alone has sold over 6 million books and is a bestseller in many countries including France, Germany, Japan and the USA.
Mick Inkpen was born in Romford in 1952 and still lives in Essex with his wife Debbie and their two children. Mick is one of the most popular author/illustrators in the world, his stories have been translated into over twenty different languages and his books have sold over 4 million copies. Kipper, perhaps his most popular character of all, is now the star of his very own TV series while Wibbly Pig, Penguin Small and Threadbear continue to delight young readers - and their parents!
Mick has won numerous awards world-wide including The British Book Award for Penguin Small, The British Book Award for the best illustrated book, for Lullabyhullabaloo, The Children's Book Award for Threadbear, The Parents and Munch Bunch Play and Learn Award and The Right Start Petit Filous Best Toy Award for Where, Oh Where is Kipper's Bear? Kipper won a BAFTA for best animated children's film in 1998, and Kipper's A to Z won the silver medal in the 2001 Smarties Prize.