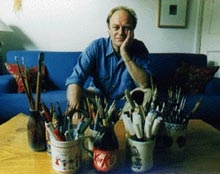 Julia Eccleshare says:
"Korky Paul is a prize-winning illustrator who has a great gift for creating brilliant picture books. He was invited to illustrate Valerie Thomas's story about Winnie the Witch as long ago as 1986. His comic illustrations of the chaotic witch and her temperamental cat Wilbur were an immediate success with children. Since then, Korky has illustrated many more stores about Winnie and Wilbur as well as other picture books including The Fish Who Could Wish and The Rascally Cake. Korky says, he sees a picture book as being like a film. He says the words are the sound track and then he, as the illustrator, has to be the director, the costume designer and the set designer as well as being in charge of locations, props, lighting and everything else. But don't worry. Korky loves it all and will continue to create wonderful picture books to delight young readers."
Award-winning artist Korky Paul has very quickly become a well-known figure in the children's book world and he is especially popular with the young children who read his books and are carried away into a fantasy world by the illustrations.
He likens a picture book to a movie says Korky: "The text is the soundtrack and it's that special combination between words and pictures that makes for good storytelling in a picture book." His work has been compared to Tom and Jerry cartoons, but also to the artists Ronald Searle and Ralph Steadman. Among Korky's numerous awards his fabulous Winnie the Witch won the prestigious Children's Book Award.

Korky Paul was born in Harare, Zimbabwe in 1951 into a family of seven children. His real name is Hamish Vigne Christie Paul. He enjoyed a wild and privileged childhood in the African Bushveldt. At an early age he was reading comic books and scribbling cartoons. He scribbled his way through Durban School of Art and for four years scribbled at an advertising agency in Cape Town. In 1976, as Korky puts it, he "fled for Europe" and landed up in Greece. Here he met a mad scot, James Watt, working for a Greek publisher, who commissioned Korky to illustrate a series of educational books teaching Greek children to speak the 'Queen's English'. And so he began his career as a children's book illustrator. Korky's first children's book was a pop-up called The Crocodile and the Dumper Truck published in 1980, with paper engineering by Ray Marshall.
In 1986 Korky Paul met the editor Ron Heapy at Oxford University Press who commissioned him to illustrate Winnie the Witch. It won the Children's Book Award in 1987 and has been published in over 10 languages. Korky has since illustrated more very successful books for a range of publishing houses.

Korky Paul is married to the artist Susan Moxley and they have two children Zoe and Oska. They live in Oxford.