"Empowering books EVERY child should read." Junior Magazine
Discover the lives of outstanding people, from designers and artists to scientists. All of them achieved incredible things, yet each began life as a child with a dream.
Each book is a perfectly potted biography plus each contains extra facts at the back. A quirky and collectible approach to stories about women. The Little People Big Dreams series is the perfect first library for sharing with children aged 5+, showing the true breadth of women's achievement. Each book tells the childhood story of one of the world's female icons in an entertaining, conversational way that works well for even the youngest non-fiction readers, allowing them to identify with the characters in each story.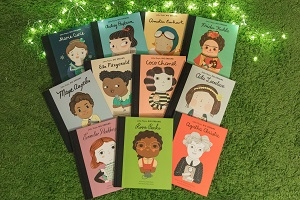 "Strikingly illustrated, they're superb first biographies for younger readers." The Huffington Post
"A stylish book … a great stepping stone to non-fiction." The Guardian Family Review