We know some of our members have children who dream about having a pony whilst others live and breathe ponies because they have one, but they want more! This special category should help satisfy their demand by providing warm and engaging stories featuring four legged heroes or heroines of the equine variety.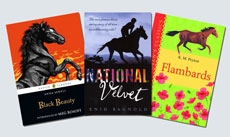 You'll find favourite classics and contemporary greats to satisfy their demand. Classics include, Black Beauty, The Silver Brumby, National Velvet, My Friend Flicka and of course War Horse.
Whilst some contemporary greats featured include, The One Dollar Horse, Katy's Foal, Tilly's Pony Tails and Princess Evie.