Michael Morpurgo - Storytelling Genius
Highlighting 20 Great Reads...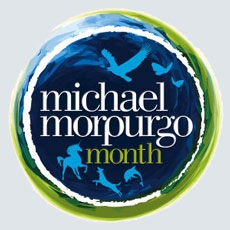 ___________________________________

2016 is the 40th anniversary of Farms for City Children, the charity founded by Clare and Michael Morpurgo in 1976, and there will be events up and down the country. To join in the start of these celebrations we are, each week during March celebrating a different theme of Michael's writing with these specially selected books:

WAR - Private Peaceful, The Amazing Story of Adolphus Tips, War Horse, Little Manfred, Listen to the Moon.

JOURNEYS - Kensuke's Kingdom, Dear Olly, Alone on a Wide Wide Sea, Kaspar Prince of Cats, The Wreck of the Zanzibar.

LEGENDS - Outlaw, Pinocchio, The Sleeping Sword, Beowulf, Sparrow.
ANIMALS - Born to Run, Butterfly Lion, Running Wild, An Elephant in the Garden, Why the Whales Came.
We have asked our readers to review many of the books to feature during Michael Morpurgo month - you can download all their reviews here.
___________________________________

To find out more about Michael Morpurgo Month see his Facebook page or the Twitter hashtag #MorpurgoMonth. Or visit wwww.MichaelMorpurgo.com for exclusive videos and downloads and the chance to win signed copies of the books, an iPad and even a school visit from Michael himself!

---------------------------------------------------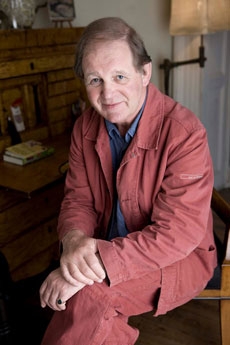 Michael Morpurgo is one of the UK's best-loved authors and storytellers.
He was appointed Children's Laureate in May 2003, a post he helped to set up with his friend Ted Hughes in 1999.
He was awarded an OBE for services to Literature in the Queen's Birthday Honours in 2007. He has written over 120 books. Michael travels all over the UK and abroad talking to children and telling his stories and encouraging them to tell theirs.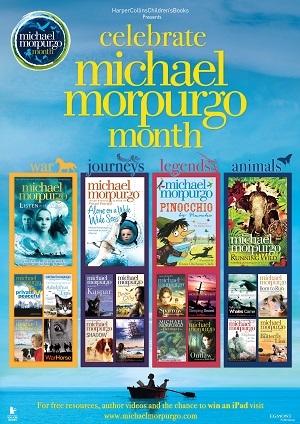 A message from Michael Morpurgo on the 40th anniversary:
"All those years ago Clare and I arrived in Devon and with the money left to her by her father Allen Lane we bought a farm and rather idealistically set up a charity. Working with the teachers and with the neighbouring farmers, we pioneered a programme of work designed to extend children in every way possible out on the farm – physically, mentally, emotionally and intellectually. It is hard work, real work, and the children know their work is essential and important, that it matters to the animals, to the farm, that it simply matters. They matter. Who knows what effect this has had long term? I hope some of these children will have treasured their time on the farm for the rest of their lives, that as parents themselves now they will remember and pass on the stories of their time in the countryside, on the farm."
The anniversary year for Farms for City Children will include the launch in early April of Love Mud#LearnWild, a campaign in association with the outdoor children's clothing company Muddy Puddles to make learning outdoors and interaction with nature an integral part of education.

There will be alumni events at all three farms and the Exetreme Imagination Literature festival in association with Farms for City Children in Exeter in October with the theme of the 'environment'. As part of the celebrations for 2016, Walker Books will publish a new story by Michael Morpurgo in aid of FFCC, inspired by the true story of a boy who visited the farm, Didn't We Have a Lovely Time. This will be illustrated by Quentin Blake, Vice President of Farms for City Children.

During this 40th anniversary year, Farms for City Children is also asking former pupils and teachers who visited the farm with their schools to get in touch via the charity's digital channels to pass on their stories of their time on the farm using the hashtag - #farmersforaweek.