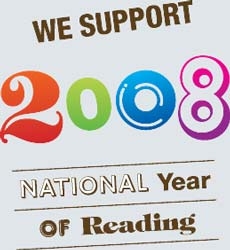 Here at Lovereading4kids, we love books and are passionate about ensuring that everyone is able, whether through borrowing from a library, buying from us or any other retailer to receive guidance on what books children might like to read.
So, when we heard that 2008 was being designated as The National Year of Reading we knew we had to redouble our efforts to ensure the most exciting new books and authors as well as previously published books were brought to the forefront to support the National Year of Reading so that children everywhere at whatever age develop their learning, can escape into a different world and have a great deal of fun while reading.

Launching in April, National Year of Reading themes will run through until the end of the year. Here at Lovereading4kids we've selected a range of titles that fit loosely within the themes. and with all the books exclusively at Lovereading4kids you can download an extract of each of the titles to decide for yourself whether it's a book for your child or children. At the beginning of each month the titles for that month will be available for you to view.
April – Read all about it. Read and listen to anything and everything, anywhere and everywhere.

May – Mind and body. Celebrating the links between reading and health and the importance of bonding between parent and child through reading together.
June – Reading escapes. How books helps you escape into different worlds.

July – Rhythm and rhyme. Celebrate poetry but also will include children's books with rhyming text.

August – Read the game. The influence of sport in books for children.

September – You are what you read. Celebrate non-fiction for children. Culture/history made fun and interesting.

October – Word of mouth. Celebrate storytelling, reading out loud, reading together and finding new talent.

November – Screen reads. Film and TV tie-ins – did you know that most films started out as books?

December – Write the future. A celebration of all forms of writing

But don't forget, National Year of Reading activities are taking place all over the country during the year, but particularly in libraries, so why not check out your local library to find out what authors your children might be able to meet in the flesh.