Bears like Paddington are very rare, says Mrs Bird, and a good thing too, or it would cost us a small fortune in marmalade.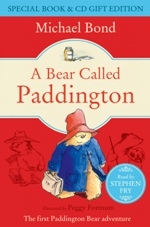 The very first Paddington book, A Bear Called Paddington, was published in October 1958. Since then there have been numerous books, plays, an animated children's series and 2 movies. Paddington the Movie and the new Paddington 2, feature a stellar cast including Nicole Kidman, Julie Walters, Peter Capaldi, Hugh Grant and Ben Whishaw as the voice of Paddington.


The idea of Paddington as a character came to Michael Bond after he bought his wife a small bear, the last bear alone on a shelf at Selfridges store, Oxford Street. He named it Paddington after the station close to his home.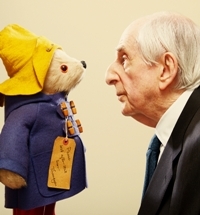 Photo credit Felicity McCabe

Michael Bond was working as a television cameraman at the BBC when he began writing his books about Paddington. His stories became so popular that he was able to give up his job with the BBC to become a full-time writer.
Of Paddington himself Michael Bond says: "The great advantage of having a bear as a central character is that he can combine the innocence of a child with the sophistication of an adult. Paddington is not the sort of bear that would ever go to the moon - he has his paws too firmly on the ground for that. He gets involved in everyday situations. He has a strong sense of right and wrong and doesn't take kindly to the red tape bureaucracy of the sillier rules and regulations with which we humans surround ourselves. As a bear he gets away with things. Paddington is humanised, but he couldn't possibly be 'human'. It just wouldn't work."


The Paddington books have sold more than thirty-five million copies worldwide and have been translated into over forty languages.
Paddington has even been on a special set of Royal Mail stamps!

In 1997 Michael Bond was awarded an OBE for services to children's literature. He is still writing and lives in London, not far from Paddington Station where it all began.
You can find out more about Paddington, the author Michael Bond and the new movie, Paddington 2, at www.paddington.com