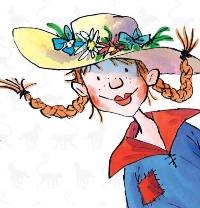 To mark this anniversary Oxford University Press is re-issuing 4 classic Pippi stories translated from the original Swedish stories of Astrid Lindgren and with lively illustrations by Tony Ross; these stories are perfect for newly independent readers.
Each year Astrid is remembered through a global award named after her and for 2015 the winner is an innovative reading and storytelling program based in South Africa. This year Lovereading4kids' very own editorial expert, Julia Eccleshare attended; read Julia's article about Astrid Lindgren Memorial Prize.
Why not hold your own Pippi Longstocking party? There's a fantastic party kit to download here with ideas for making party bunting, fancy dress and games to play!
Five facts about Pippi Longstocking!
Pippi's father is a swashbuckling pirate captain!
Pippi has superhuman strength - she can pick up her horse with one hand!

Pippi lives by herself in Villekula Cottage.
Pippi loves to tell tales...sometimes they are are rather exaggerated...

Pippi LOVES her freckles!
Astrid Lindgren (1907-2002) originally wrote Pippi Longstocking for her daughter Karin to cheer her when she was confined to bed with pnuemonia. Astrid collected these bedtime tales together into the first Pippi Longstocking book and it went on to win her the Raben & Sjogren's Best Children's Book Prize. Astrid published over 100 novels and is still the most popular children's author in Sweden with her books translated into over seventy languages and selling over 145 million copies world-wide. The books have also been adapted into numerous films and tv shows.
Astrid Lindgren said she wrote for children "to teach them how to be more human and understanding of people."
Pippi fans will love this activity pack with colouring in, a Pippi quiz and puzzles - and guidance on how to help children get the most out of the Pippi books.