Pack A Puffin Book!
Dear readers, dreamers and adventurers,
Ever wanted a friend who could take you to magical realms, talk to animals or help you survive a shipwreck? Well, you'll find them all in the A PUFFIN BOOK collection.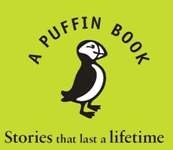 A PUFFIN BOOK will stay with you forever. Maybe you'll read it again and again, or perhaps years from now you'll suddenly remember the moment it made you laugh or cry or simply see things differently. Adventurers big and small, rebels out to change their world, even a mouse with a dream and a spider who can spell - these are the characters who make stories that last a lifetime.
Whether you love animal tales, war stories or want to know what it was like growing up in a different time and place, the A PUFFIN BOOK collection has a story for you - you just need to decide where you want to go next...
We want to know which is your favourite. Tell us or tweet a photo of your old beloved copy - and we might just send you a new A PUFFIN BOOK so you can pass the story on.
Love PUFFIN
@puffinbook #PackaPuffin

------------------------------------------


Whether you like books on Animals, War Stories, Magical Realms, Real Life or Unusual Friends there's a book for everyone in this timeless collection of Puffin books.